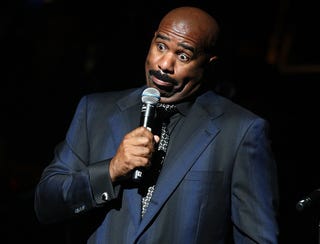 Ladies, if you don't have a man, you already know it's all your fault. And if you are an African-American woman, Steve Harvey, Nightline and and host of others want you to know that goes double for you.
On Friday night, Nightline sponsored a panel called, "Why Can't A Successful Black Woman Find A Man?" moderated by Steve Harvey (comic and author of the totally-not-stereotypical book Act Like a Lady, Think Like a Man) and Nightline's Vicki Mabrey. It featured Sherri Shepherd and VH1's Jacque Reid against actor/author Hill Harper and Jimi Izrael, who wrote the execrable The Denzel Principle: Why Black Women Can't Find Good Black Men. The discussion was touched off by a December Nightline segment in which people sounded off on the idea that African-American women are just too picky (paging Lori Gottlieb!) when it comes to requirements like their potential spouses ought to match their education and professional achievements — you know, that equality thing that is often shown to be the basis of many successful long-term relationships. The segment also included this paragraph:
What "Nightline" looked at were the large numbers of professional black women who have groomed themselves for success with B.A.s, M.D.s and J.D.s. Seventy percent of them are still without the more elusive title: M-R-S.
So, you see where this is all heading.
When Abiola Abrams tweeted about the panel on Friday, I was forced to agree with her assessment:
Who wants to VOMIT with me? "Why Can't a Successful Black Woman Find a Man?" Coming again on #Nightline
I obviously have strong feelings about the idea that women should settle: yes, if you subject every guy to a 100-point questionnaire to determine his worthiness for a second date; no, if it means compromising principles and emotional needs in order to have a warm body on the other side of the bed.