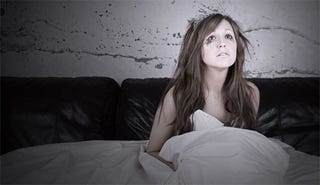 Weddings sucked up $42 billion last year. The average U.S. wedding cost $19,581. And that figure actually represents a decline: in 2007, before the recession, Americans spent nearly $29,000 on every single one of our 2 million-plus weddings.
Most of the couples who ended up spending more than the cost of a downpayment on a house in order to get initiated into an institution with a near-50% failure rate probably intended at one point to have small, simple weddings. Then they registered for gifts, and probably TheKnot.com, and then every distant cousin had to be invited, and there was a deluge of bridal magazines and the apparent need to book a D.J. eight months in advance. They almost certainly, at one point or another, attended a weddings expo. And before they knew it, this couple was deep in the belly of the Wedding-Industrial Complex. They were toast.
At the New York Weddings Event — not an expo, an event — yesterday, it was easy to see how that steady raising of the stakes could occur. There's the inflation of price — why should it cost $6,000 to book a band for one night, just because the W-word is in play? — but there is also the more cunning inflation of need. I paused at this one booth where a design firm was proffering its services in the creation of customized wedding "Who's Who" explainers. To plug names into a pre-set — but very elegant looking, I have to admit — wedding guest "family tree" and print off a chart for display at the reception cost $535. "But more for something custom, like that one," said the booth attendant, pointing to a large chart done in oranges and reds, where the tree, cleverly enough, looked like a tree.
I am not engaged or planning a wedding, so I was mostly there to scarf free food and down free drinks. (Hello, open bar!) Sadie is, so our visit had some notional purpose, beyond our own bloggy amusement. And truth be told, it was kind of great to wander around eating — there were little parmesan cups containing salmon mousse, prosciutto and cheese roll-ups, filet mignon hors d'oeuvres, and cuplets of lemon-rosemary risotto served in half-lemons, and that was just this one booth. (Like Tracie noted two years ago, the diet/cleanse/wedding workout booths were mostly deserted.) And, allow me to mention in passing that among the many, many booths serving cakes of varying deliciousness, I didn't spot a single one touting wedding pie.