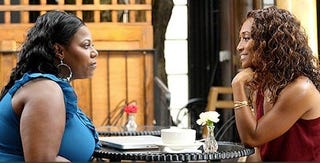 When it comes to reality shows featuring black women (and some men), VH1 is "trading trampiness for fabulousness," with shows devoted to the lives of "seemingly well-adjusted rich and famous black Americans," according to the AP. Let's examine, shall we?
VH1's new slate of Sunday shows — "What Chilli Wants," "Brandy & Ray J: A Family Business," and "Basketball Wives" — all feature affluent black celebrities (or, as per the reality standard, people who once were celebrities, or people who once slept with celebrities.) The AP's Derrik J. Lang sees this as a sharp contrast with shows like Flavor Of Love, although it appears difficult to get any offical interviewee to do anything but hint at it. Here's the executive vice president of VH1:
"We constantly have to evolve and tell our audience different stories," he says. "I love that we've been able to get more diverse with our audience by - in large part - attracting African-American women to the network. We got them in the door with some shows, and now I'm excited about where we're going and how we're telling them different kinds of stories."
Translated from corporate speak, this appears to mean that the "story" that has often includes "contestants spitting on each other or suddenly defecating on the floor" has been exhausted.
And so there's going to be a shift towards a new image, perhaps best exemplified in Chilli's new dating show. (You may remember her from a time where condoms were a prime fashion accessory.) The central conflict is whether Chilli can find a partner without compromising her standards.
So let's compare and contrast the changing face of VH1. Here's before Chilli:

VH1 Changing Tone With Black Reality Shows [AP]
Earlier: Is Trash TV Bad For Women? A Producer's Defense Of Celebreality