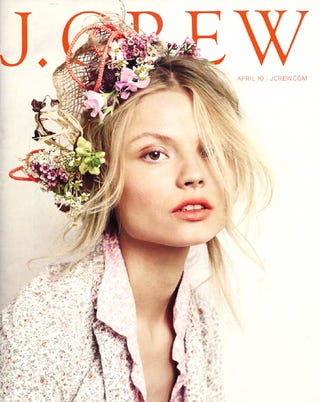 Spring has sprung all over J.Crew's face, and this April catalog has more flora than a botanical garden. It's worth paging through, though, to get to the hot guys at the end. Grab your Claritin, we're going in!
If the cover model looks kind of dazed or dead-eyed, it's probably because she can't believe she is wearing a floral romper. Even five-year-olds would look upon this outfit and declare it for "babies." Pretty flowers, though!



On thing the J.Crew stylists love to do is layer in a way that would never be appropriate in real life. This ensemble of shirt, cardigan, necklace over collar and two skirts looks almost normal here, but if this chick were walking down the street, you would be all, "Why is she wearing two skirts?"



I've said it before and I'll say it again: J.Crew, in my experience, hates boobs. Everything I have ever owned has been ever so slightly tight in the bust. True, I have a huge rack. But look at this lady! This is the J.Crew ideal: Concave.



Oh, Jenna's Picks. She always picks things I don't like, so of course the $98 "Adèle Romper" is here.



I don't know that I have a dream outfit, but this is fairly close to a nightmare outfit! Putting the zzzzz in neutralz. I mean come on: There's neutral, and then there's the next best thing to an invisibility cloak.



Are overalls really happening? Are they really "glam"?!?! At least these $168 ones — the paint splatter is included — are less than the $348 ones from Free People.