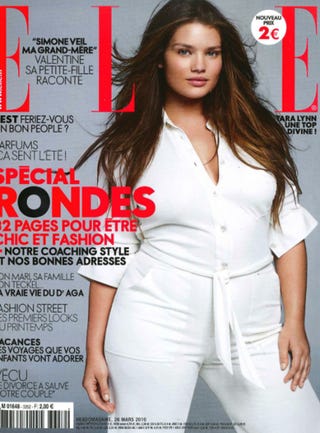 America — third-fattest country in the world, according to the WHO — has a schizophrenic relationship with food. Could the union of obesity activists and eating-disorder advocates generate any real insight? Strangely, at a recent panel, it kinda did.
It seems like I spend half my life going to panels about women's bodies. Most of the time, each is depressing in a wholly different way from the last. This latest panel, held on Friday, was hosted by the NEDA, the National Eating Disorders Alliance, the Obesity Society, and STOP Obesity Alliance — a combination of voices that could have been highly combustible. Competing for scarce health research dollars, the ears of legislators, and cultural legitimacy could make enemies of the anti-ED and the anti-obesity "sides." There is also the common argument that there is a kind of an either/or dichotomy between obesity and disordered eating, that if we push too hard to rationalize our relationship with food, and to encourage active lifestyles, we will end up encouraging people to develop eating disorders. (This is mostly false. Like it says on the NEDA pamphlet, eating disorders are illnesses, not choices.)
But instead of anger and resentment, there was common ground. It was nice to see a panel about health, weight, and the media that treated the discussion of body size as neither a sideshow or as a smokescreen. Rather than having a "debate" about whether or not women can take up space, or giving fashion's leading lights another opportunity for their furious buck-passing, here were some doctors and some medical journalists — look, a lady from Newsweek! — and, hello, Emme, talking about obesity, eating disorders, and the culture that feeds them, in a reasonable way, a way that suggested there was common ground for change. Meme Roth was notably absent.