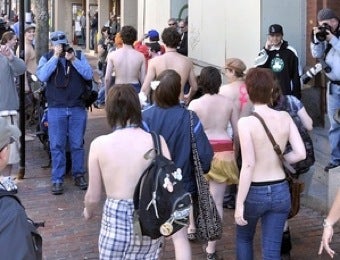 Determined to challenge society's double standards when it comes to going topless in public, Ty McDowell and roughly two dozen other women walked through the streets of Portland, Maine yesterday sans shirts. The protest had mixed results:
Though the Portland Press-Herald reports that the protest was peaceful and resulted in no arrests (it is only illegal to expose one's genitals in Portland, apparently), McDowell, who organized the event, told the paper that she was "enraged" by the amount of men who showed up to watch, essentially sexualizing an event that was meant to challenge society's instant sexualization of a woman's exposed chest.
McDowell's protest is not a new one; last summer, women in NYC gathered for a "Boobs in the Park" demonstration for similar reasons, citing a 1992 law that made going topless legal in the city. But the openness toward's women's bodies clearly hasn't come very far, as we saw just last week, with Erykah Badu being fined $500 after another woman complained that she was "offended to see Badu disrobe in public."