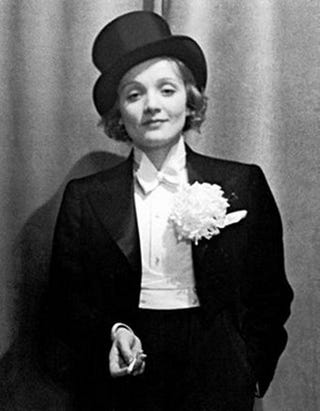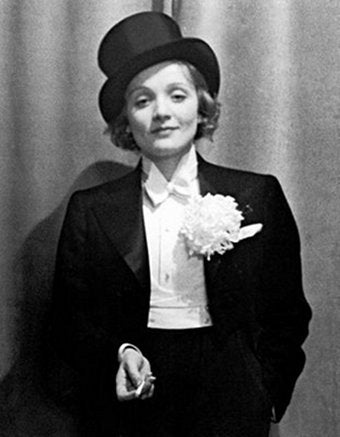 With the rise in same-sex marriage - with a new wedding mag, less! - comes a rise in the question: Where to buy a suit?
I'll admit here to making the probably common error for ages, of assuming that a woman getting married in a suit would have it easier. After all, it's always seemed like there were fewer variables to consider; certainly those of my friends who opted for suiting for our proms had nothing more to do than pick up a garment bag.(Of course, back then, everyone's suits looked awful, so sloppy lines didn't seem like a big deal.) But, in fact, for many women who opt, in the words of Monica Hesse's WashPo piece, to be "the Ellen" of the couple, there are limited sartorial options. Simply put, most good tuxes aren't cut for women. And even when a woman is fine with good men's tailoring, the scale is often just off. Sure, it's one thing when you're a Charlotte Rampling (or, for that matter, Kate Moennig) type, who can slip on a smoking with louche insouciance. For most people, however, it's more of an issue.
It's not just an issue of fit, either — there's a customer-service problem, too. Not every menswear store is friendly to a woman shopping for a tux — or a same-sex wedding. Tailors are not, in my experience, exactly a progressive bunch (with notable exceptions, of course — and Nelson on Rivington is awesome). And a surly, hostile tailor feeling up one's inseam is the last thing you want to deal with while choosing what to wear.
Enter the web. (We're assuming the new mag, Equally Wed, will be a boon in this regard, too. I mean, wedding mags get half their advertising from designers!) Hesse's subjects invoke such resources as So You're EnGAYged, Sartorial Butch and the new DapperQ. These are goldmines not merely for practical tips (shop separates) but for regionally specific guides as to where to go and who to see. For either the woman shopping for a special occasion or merely aspiring to classic Marlene elegance, I'd add the following:
Whatever you do, unless you come from a long line of tailors or something, please don't try to make your own. You're going to end up buying on anyway, but DIY may leave you with a frustrated, broken heart. And a ton of lightweight serge reproaching you every time you open the closet. Just don't do it, okay?


If you're petite, try the boy's department, no joke. And at Brooks Brothers, they're used to it. And seriously, you're not shopping in the women's section.

-Cheap Monday makes affordable, sharp mod unisex suits that also work well as separates. Ditto TopMan. One of my friends who's always looking awesome in menswear gets all her suiting at TopMan, although it should be said that she's one of those tall drinks of water who can insolently wear anything. She also likes "early-60s trousers because they're easy to tailor."

-eBay, duh. And little vintage men were often smaller! Try "vintage dinner jacket" as a search. Don't make the mistake of not noticing a seller's actually in Australia. It's not such a bargain after shipping. Why is there so much awesome suiting in Australia?

- If you're splashing out (which, if it's your wedding, you're certainly justified in doing) and you need something more specifically tailored to a woman than, say, Hedi Slimane, Carolina Herrera's suiting is Marlene Dietrich-amazing. (And in case you're wondering, Rachel Maddow apparently favors Jil Sander.)


Same-Sex Weddings Open The Door To Finding The Right Male Attire For Women [Washington Post]
Same-Sex Wedding Magazine Equally Wed Launches [MediaBistro]