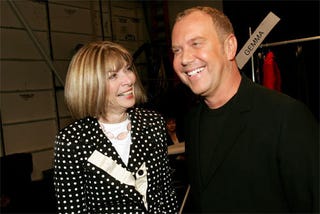 Last night at Harvard, while speaking with Anna Wintour on a panel about models' health, Michael Kors pledged to no longer use girls under the age of 16 in his shows and campaigns. It's a step, but is it enough?
Said Wintour: "Everyone's eyes are open and looking at the problem." But it was hard to tell, beyond "looking at it," what the people in power are actually doing about the problem.
The discussion, called "Health Matters: Weight and Wellness in the World of Fashion," was moderated by Dr. David Herzog, who also moderated last month's CFDA Health Initiative panel in New York. Herzog is the director of the Harris Center for Education and Advocacy in Eating Disorders at Massachusetts General Hospital. This man has spent his professional life examining the destruction eating disorders inflict on the lives of women. This makes the question of why he's so far up Anna Wintour's/Vogue's butt that much more compelling.