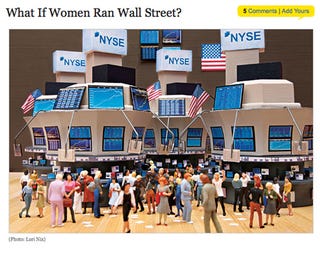 Emotionally volatile, driven by petty personal subplots, captive to hormonal cycles — unfit, in other words, to handle vast amounts of money and determine a chunk of the national economy. We're talking, of course, about men.
Sheelah Kolhatkar, a journalist who once worked as a hedge fund analyst, writes about the effect of gender on Wall Street in this week's New York, drawing both on recent endocrinological research and interviews with people on the floor. The conclusion: Not only did a feedback loop of testosterone in the markets help create the financial crisis, men also need to unlearn certain biological tendencies and start acting "like women."
We've heard some of this before, of course, including in New York itself — that egos and competition and greed among groups dominated by men led to recklessness, that risk-averse women may have made less money during the market highs but also survived the crash better, that there may be biological forces at stake. This is perhaps the most explicit synthesis so far of how much traditionally female behavior can go to forestall crisis — and an inversion of the old saw that women are emotional and men are rational.