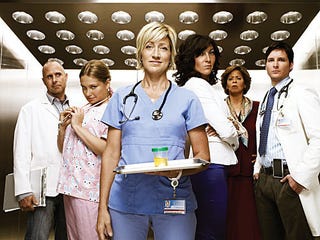 "All the [network] TV executives in LA were going, 'Women are not interesting,' Nurse Jackie co-creator Linda Wallem told me of the post-90s climate. "And you see what happened to television. Shame on them." Not everyone was so unimaginative.
It's not easy to get someone actively working in television to speak so frankly about what's wrong with the industry, particularly when it comes to women and representation. It's too easy for anyone who does to get unfairly pegged as the bitch or the whiner. But Wallem doesn't mind burning bridges: "I don't care if I ever work in Los Angeles again for another network," she said. That's because she and co-creator Liz Brixius say they have complete creative freedom on cable — which, generally speaking, has become an escape from television's limited formulas for women. Showtime, in particular, has staked its claim on portrayals of complex, flawed women who take center stage, a move for which, in a joint interview, Wallem and Brixius repeatedly credited their boss, Showtime president Bob Greenblatt.
No surprise that the two co-creators, executive producers and writers on the show would give props to the boss. But there's real proof behind the talk: Nurse Jackie and The United States of Tara, which return for a second season on Monday; Weeds; The Big C, the forthcoming Laura Linney vehicle (co-starring Gabourey Sidibe!). Even Dexter has two female executive producers and interesting female characters. All showcase brilliant actresses, many of them over the age of Hollywood's usual sell-by date, as well as the writing and ideas of women. "In a world where there's so much rehashing it can get boring to keep playing the wife, the mother. I never thought I'd be working in TV," Toni Collette told The Wall Street Journal's Amy Chozick in a story published today.