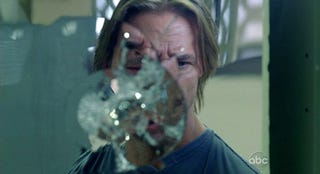 A major theme throughout all six seasons has been the Losties' daddy issues. However, last night's episode suggested a new theme—men with crazy moms. It's fitting a Sawyer-centric installment was based on his catchphrase: "Son of a bitch."
These were the first words he uttered in the original timeline, and the last he uttered in the sideways timeline. And while, emotionally, the episode was all about James Ford, the meat of the story—the answers! (and more questions)—revolved around Mocke.
First we saw him herding his new followers through the jungle, and giving them a pep talk of sorts. What he told them—a series of half-truths—seemed to be a hint about his intentions with this crew.



For example, he told them that "the black smoke" killed the people back at the temple. It's not really a lie, but it's not exactly the truth. He killed the people back at the temple. He assured the kids that they're with him now, and he promises that he'll take care of them. Another half-truth?
And speaking of truth and lies, we got a glimpse into Sawyer's sideways world. In this version of his life, he's still trying to track down the guy who instigated his parents' murder/suicide, he's still an avid reader, he still loves Little House, but instead of being a conman, he's a cop. And in this reality, he still lies, but unlike in the original timeline, he's lousy at it. Everyone to whom he lied in the sideways world—the chick from the sting operation, Miles, Charlotte—they all knew he wasn't being honest with them.
For the most part, his lies all serve a common purpose: To conceal his life's mission.




But he did tell one half-truth to Charlotte (who, BTW is working at "the museum" with Dr. Chang, Miles' father).




When she asked him why became a cop, he first tried to make up some bogus excuse, but she pressed him further and he responded, "I guess I got to the point in my life where I was either gonna become a criminal or a cop, so I chose cop."
His answer made me think about free will, which Jacob seems to be big on. James Ford had a choice, and he made the right one, all on his own. He had the same choice in the original timeline. In both realities, his parents were conned by a man calling himself Sawyer, which subsequently led to James' father killing his wife and then himself.




So what was different in the decision making process in these two timelines? Jacob. In the original timeline, James is sitting outside of the church just after his parents' funeral, working on a letter to "Sawyer" when he runs out of ink. Jacob showed up and "touched" James, by providing him with a fresh pen. James held onto that letter wherever he went—including the Island—as a literal interpretation of his emotional baggage. But in the sideways world, there doesn't seem to be a letter. It points to the idea that perhaps Jacob's influence isn't all that helpful.
Miles, who is James' partner in fighting crime—kind of like when they worked security together as part of the Dharma Initiative—figures out James' big secret about going to Australia, though James refuses to tell Miles why. This frustrates Miles, who abandons him — until James admits that he didn't tell Miles about the trip because he wanted to kill Sawyer, and he knew Miles would talk him out of it. And it seems like he might have. As James reflects on the man in the mirror, perhaps he's asking him to change his ways.




And no message could've been any clearer than the wise words of Pa Ingalls.




"That's what life's all about. Laughing and loving each other. And knowing that people aren't really gone when they die. They all live in memories that sustain us until we see them again."
Yeah, the speech it probably made James change the way he was thinking about his dead parents in this sideways world, but could it also be some foreshadowing that James will see Juliet again?
Back on the Island, things aren't right at Mocke's camp, and despite his earlier pep talk, everyone kind of knows it. Claire vacillates between holding Kate's hand and then wanting to kill her, while Sayid is in some kind of a dreamy, psycho, pathetic state.



Even though Claire annoys all of his with her shrieking about her baby all the time, it was disturbing, particularly to Kate, when Mocke bitch slapped her. But maybe he was just taking out his aggression toward his own mother on Claire. And here's where things that interesting.



Mocke had a heart-to-heart with Kate, and revealed a little bit about his past and possibly present. He started off by insisting that he is not a dead man. Then he said that he knows what Kate is going through. This isn't the first time he told someone that he knew what they were experiencing, as though he could read their minds. So…can he read minds? He certainly seems to be able to get into people's heads.