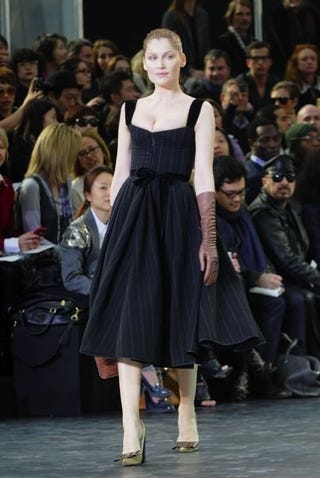 A new round of self-congratulation among the fashion industry's boosters argues that this past season was great for "curvy" girls, such as the "womanly" Laetitia Casta at Vuitton. What are we really talking about here? Boobs.
Claire Brayford of The Daily Express is the latest to proclaim that "curvy girls are the future," and that the Victoria's Secret models at Prada and the supermodels at Louis Vuitton were some kind of sea change: "There is clearly a new benchmark being set for women of varying body types."
Glamour editor Cindi Leive also loved the Vuitton show for similar reasons, although she wasn't trying to rhapsodize about the coming revolution:
We'd welcome any divergence from a standard that can be hauntingly gaunt. But let's not get carried away with the Dove-style celebrations. These women are "curvy" in the way Lara Stone is curvy: They have tiny waists and very little body fat, but they have relatively large breasts. Neither feminine ideal breaks the mold particularly.