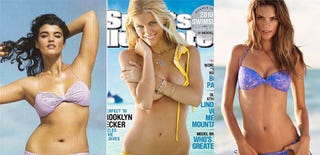 Last week, images from a Glamour magazine shoot — featuring Alessandra Ambrosio, Crystal Renn and Brooklyn Decker — popped up online. Three women with different body types, posing in bikinis? Cue the shitstorm!
ABC News declared Alessandra "too skinny," noting that she has "barely any curves" and claiming that she looks more like a "pre-pubescent teenager than a 29-year-old mother."
Today, Alessandra fires back in WWD saying:
"I've been tiny since I was four, and I eat whatever I want… All that matters is that I stay healthy… If I'm two pounds heavier, I'm fat. If I'm skinnier, I'm sick. It's ridiculous. And that's not coming from agents or designers."
There's also a quote from her personal trainer, and Lord knows if someone could talk to her doctor, they would. Interesting how all the talk about how "skinny" Alessandra is comes after she stands next to someone a few pounds heavier; did anyone complain during the Victoria's Secret Runway show?
But even though Glamour teamed Alessandra, Brooklyn and Crystal together because the mag has been trying to show more diverse body types, is the fashion industry really getting more diverse, body-type wise ? The Guardian's Kira Cochrane reports that the recent runway shows in Paris and Milan featured "jutting collarbones" on models with "tiny upper arms, fragile and snappable as a bird wing stripped of feathers." (Bonnie Fuller's recent piece cheering "curvier" runways claimed that the Louis Vuitton show included "full-figured models," a statement that was both erroneous and delusional. Do any of those women are "full-figured" to you?)