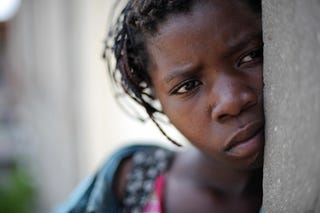 Early this morning, Christiane Amanpour hosted Dr. Denis Mukwege, Annie Rashidi-Mulumba and Leymah Gbowee at The Daily Beast's Women in the World conference for a difficult discussion on rape as a weapon of war, and what to do about it.
Dr. Denis Mukwege is a gynecologist at the Panzi Hospital in Bukavu, in eastern Democratic Republic of Congo, where he specializes (to his chagrin) in treating women who have been brutally raped. Annie Rashidi-Mulumba is a Congolese activist who serves as a consultant to the UN. Leymah Gbowee led a nationwide sex strike in Liberia after, as she says, she and the other woman of Liberia grew tired of being raped as part of the country's civil war. All of them have been exposed to sexual violence as a weapon of war, and believe that breaking the silence that surrounds rape is a crucial step to ending it.
Mukwege and Rashidi-Lumumba don't call what goes on in the Congo "rape" anymore: what they see is too brutal, too — in Mukwege's words — "ferocious" to bear much resemblance to what people are able to process as rape. Rashidi-Lumumba calls it "sexual massacre" and told the audience,
"Most women are raped multiple times. If you see a woman and go back in a week, she will have been raped again. Women are gang raped by many men and, when they are done, they rape her with sticks, and guns and knives. Sand is put into their vaginas."
Mukwege calls what is done to his countrywomen terrorism:
"We have to treat sexual violence as terrorism. We must face up to the fact that sex is being used as a terrorist act."
Both Mukwege and Rashidi-Lumumba described how women feel as though they have nothing left after rape, which, in many countries, is increasingly public and involves mutilation. Mukwege said:
"When we started the hospital, it wasn't to care for victims of sexual violence... I have been working in this part of the Congo for 25 years, and then, all of the sudden, there were all these women coming to me with these wounds. At first, they didn't want to tell me, but when a woman comes in with almost like burns to her vagina and no other violence, you know what has happened."
Women didn't want to talk about what happened to them because of the shame involved. Rashidi-Lumuba said that many women once thought that "There is no life after rape" and that part of her work was literally to educate women to go to the hospital after being raped.
Both believe that it's of primary importance to teach women that it's simply not true that there is no life after sexual violence. Mukwege said:
"The first thing that women have to understand is that they have a responsibility to go on living. When we speak to them, we say, 'You have the right to go on living. You are worthwhile.'" ... The must understand they have the right to live, they must not feel guilty.
Despite calling Human Rights Watch in 2001 to bear witness to what has been done to his patients, Mukwege says that little has changed in the last decade except that, at long last, some women are beginning to protest in the streets their treatment at the hands of soldiers and militiamen.
The third panelist, Leymah Gbowee, knows a little about protesting. When her country was consumed with violence and she and many other Liberian women were constantly under the threat of assault, she led a 2,500 woman protest to the gates of former President Charles Taylor's palace and forced him to enter into negotiations to end the civil war. When it wasn't going well, she and her fellow female protesters barricaded the leaders in their room without food or water until they came to an agreement. She told the audience:
"One of the things that propelled us as Liberian women was that the cost of staying silent was higher than the cost of doing something."
Rashidi-Mulumba called her presentation inspiring — which it was. To listen to Gbowee talk — even from the balcony where I sat — is to feel her power and her absolute determination to create change.
Rashidi-Lumumba identified two ongoing problems in the DRC in response to questions: the UN presence, which is set to expire, and the market for minerals from the DRC. Although the UN is technically there to protect the citizens of the DRC, Rashidi-Lumumba says they often don't help.