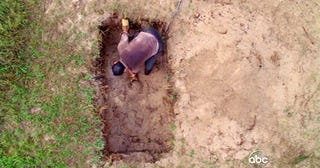 Last night's episode was the first of this season to not focus on one of the passengers of Oceanic 815. "Dr. Linus" showed us the life of Ben as a teacher, and, alternately, learning a lesson back on the Island.



As he's heating up dinner for his dad—who, in this timeline, is not an abusive asshole—Ben peers at himself in the microwave, which, again, plays on this season's themes of mirrors in the sideways story, and reflection in the original timeline.
Things are different—and better—for Ben in the sideways world. He's much more caring, as demonstrated by his dedication to his students as well as to his father's health and well being. It's funny that in this timeline, he keeps his father alive with gas tanks, rather than killing him with one.




But still, even though Ben's not being physically beaten in the sideways story, he's still somewhat beaten up by life. He has a doctorate but is "babysitting burnouts" in detention, consigned there by his boss, Principal Reynolds, whom Ben feels isn't qualified or deserving of his position of power at the high school. It would be fair to say that Ben's feelings of inferiority have caused him to have somewhat of a Napoleon complex. It's no coincidence that in the opening scenes last night, he was teaching his class about the French Emperor.