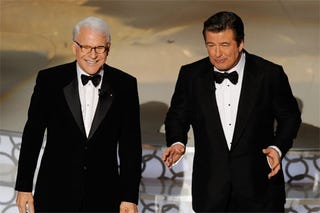 Hollywood's biggest night has arrived! Are you prepared?
I am: I've got pretzels and white Zinfandel. Let's do this.
•••
11:57
The Hurt Locker wins Best Picture! Six Oscars! Really really great! I am happy… That the show is over. Good night guys, sorry for the tech issues, thanks for being here!
11:55
Kathryn Bigelow wins Best Director. History is made. "This is the moment of a lifetime," she says.
11:52
It was Sandra Bullock's year. It's "her time." That's what everybody said, and it's true, now. I shall watch All About Steve on demand to celebrate.
11:50






11:45
Oh, hey Spiccoli! I thought Sean Penn skipped this kind of stuff?



11:43
I love how Gabby is just smiling and psyched the whole time.

11:41
I think Oprah counts as a "special guest."



11:38
So: My updates are taking forever to save, and I am ready for this crap to be over.
I liked when The Dude said, "Roger Love, man. Thank you guys."
11:32

Kate Winslet is stunning. The Oscar goes to Jeff Bridges, of course. It seems like media speculation has really taken the surprise out of the show. No upsets, no gasps.


11:15
How fun would it be to go out drinking with Pedro and Quentin?
I want to see A Prophet. Entertainment Weekly gave it an A.
Best Foreign Language Film: El Secreto De Sus Ojos
11:10





11:03

Best Documentary: The Cove.

Best Film Editing: The Hurt Locker.
11:02

The boyfriend went to lie down, and I can't say I blame him. This show has been predictable and… un-lively, not that that's a word.
Oh: But if you make Oscar LOLs, like this, and post them in the comments or email them to me (dodai@jezebel.com), I'll post them at some point. You can use the Clooney gallery and the ROFLBOT!