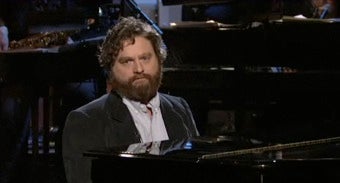 Whenever Zach Galifianakis appeared during last night's Saturday Night Live, the screen seemed to light up a bit. Unfortunately, he didn't appear as often as he could have:
When the episode ended (after a pretty solid pageant sketch that isn't online yet) I have to say I felt I bit frustrated. Sure, there were some highlights, as always, but it seemed as if the show treated Galifianakis as an afterthought, shoving him into the same tired sketches (Wiig's Today, Kenan's "What Up With That," the kissing family mess, The Situation Room) instead of creating sketches around him, which is what they seemed to do for host Jon Hamm (which paid off nicely). As Claire Zulkey of the A.V. Club notes: "I think it was the high hopes I had for the episode that made my disappointment that much worse. Way to take one of the funnier, odder guests the show has had in a while and almost completely squander him."
It's not the first time the show has completely wasted a host: the great Hugh Laurie was subjected to a similar fate, and if I recall correctly, Neil Patrick Harris did as well. It's strange to me that these men were all treated like celebs doing cameos in a comedy film; you see them for 2 seconds, they say something funny, and then they get out of the way so that the recurring characters can do their thing. Occasionally you get a Jon Hamm or a Justin Timberlake, but one gets the feeling the show would rather do away with the celebrity guest angle altogether sometimes.
Galifianakis opened the show with this joke: "Sometimes I'll do something and I'll think to myself, 'That is so Raven.' And then other times I'll do stuff and I'll be like, 'That was not very Raven.'" This show was sort-of-Raven.
Zach Galifianakis/Vampire Weekend [AV Club]