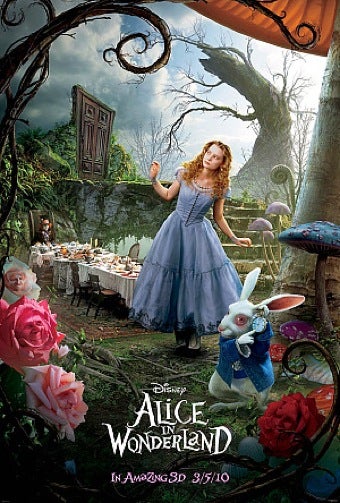 When I heard that Tim Burton was planning to direct a take on Alice in Wonderland, my first thought was: "This will either be great, or it will be terrible." Turns out it's a little bit of both:
Note: there are spoilers ahead! Turn back now if you're so inclined.
I have to admit that I wasn't terribly hopeful going in to the film, thanks to mediocre reviews and a touch of Depp/Burton collaboration burnout (a phenomenon that might spread to the masses now that Depp's confusing, ridiculous, and ultimately disappointing Mad Hatter has been unleashed), but my hopes were raised a bit when I took a look at the audience around me: a sea of 15-year-old girls, wearing wacky hats and whispering excitedly amongst themselves. I may have outgrown my Burton goth girl obsession, but there is a new generation that most decidedly has not, and their excitement was a bit contagious.