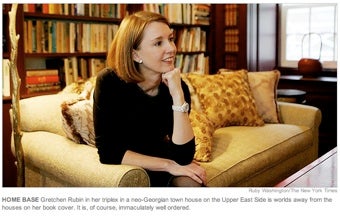 Gretchen Rubin's The Happiness Project to become happier by "to appreciat[ing] more what I already have." But is this easier when you already have a lot?
Jan Hoffman's recent Times profile of Rubin makes repeated mention of her extremely posh life. "Her gleaming home" is a triplex "in a neo-Georgian building on the Upper East Side." Hoffman also writes,
On a tour of her museum-immaculate home, Ms. Rubin, a slender strawberry blonde whose cheerfulness seems both hard-wired and hard-earned, comes across as a wonky Martha Stewart. "I get such a buzz out of cleaning closets," she said, pointing out the pretty, practical glass jars that hold her daughters' small toys, a Container Store contraption that deftly organizes earrings, even a few shelves that remain proudly, temptingly empty. The extensive library is organized by genre, by subcategories of special topics, and alphabetized by author throughout.
And: "In the book, Ms. Rubin acknowledges that her family has plenty of money to do what it wants. But happiness, she writes, comes from how people choose to spend their money." Which presupposes that people have such choices. Many happiness researchers acknowledge that not having enough money to cover basic needs is a major source of unhappiness — but this notion has also inspired something of a backlash. Ariel Gore, author of Bluebird: Women and the New Psychology of Happiness, has said that "The psychology and study of happiness can't focus on privileged people," and some psychologists and economists say that above a certain point, money doesn't make people much happier (though that point, where basic needs are covered, may be key). Meanwhile, on the Times Freakonomics blog, Daniel Hamermesh says that as we make more money, "we demand more diversity in what we consume and what we do." And Barry Schwarz, author of The Paradox of Choice, suggested that "more diversity" of products may ultimately "tyrannize" the consumer.