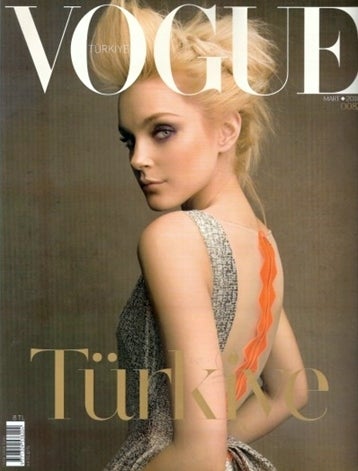 Last week, the first-ever issue of Turkish Vogue hit newsstands. While many of the editors of the new mag are Turkish, the cover features Canadian model Jessica Stam… in keeping with Vogue's habit of using white models on international editions.
In 2005, Vogue China debuted with Australian model Gemma Ward on the cover. Though Gemma was flanked by Chinese models (Du Juan, Wang Wenqin, Tong Chenjie, Liu Dan, and Ni Mingxi), she was clearly front and center; her blue eyes and blonde hair jump out from the image.
In 2007, Vogue India debuted, and guess who was the cover model? Gemma Ward. (Though a few months later, Indian model Lakshmi Menon landed a cover… Then again, so did Victoria Beckham) Again, there were five other (Indian) women on the cover (three behind the fold), but blonde, blue-eyed Gemma is at the center of the cover — and the center of attention.