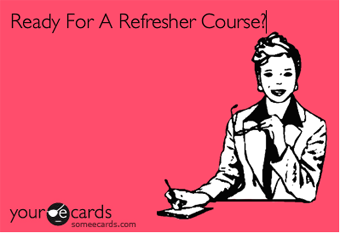 Today: A reminder and a rundown of the commenting policy on Jezebel.
The commenters on Gawker Media's stable of properties are known for their smarts, savvy, wit, breadth of knowledge and curiosity, but great online communities require a set of rules and regulations to keep the discourse high and humming along. We love our readers and our commenters - the latter are some of the smartest, savviest and funniest in the business, and I for one, am routinely rendered speechless by the care, thought, intelligence and insight you provide every single day.
Some of you may have noticed that, over the past few months, there's been a noticeable increase in the number of commenters on the site – and an increase in the number of bannings and destarrings. This is not a coincidence. As such, new readers and commenters should take the time to read this post carefully. (Veteran readers and commenters, especially those with stars, should also take the time to refresh their memories as to the guidelines.) These rules are not hard and fast – as always, ultimately, the moderation and curation of the Jezebel comments is not only a collective effort on the part of editors, moderators and starred commenters, but subject to change.
1. Good Faith: Assume good faith on the part of your fellow commenters and avoid making presumptions about their motives. We don't expect everyone to be friends, but we do expect everyone to be treated with respect. If you're not sure whether a comment you've seen and want to respond to was made in good faith, asking nicely will likely clear the situation up pretty quickly.

2. Quotations/Citations When Replying: Make good use of the "reply" buttons and quote relevant passages/comments in your responses, especially when you are disagreeing with a writer/editor or commenter. Too often, we're seeing commenters reply to posts – or a group of commenters – without a specific citation(s) of what they're responding to. Often, on closer inspection, it's clear that the commenters who do this are either not reading the post/other comments carefully - reading comprehension is your friend! - or are presuming motives (see number #1 above.)

3. Read Before You Comment: Read the post and the comments thoroughly before posting your own response. There is nothing more frustrating than reading duplicate comments or comments that begin with "I didn't read this whole thing, but...".
4. Stars: We've been making an effort to be more proactive in awarding stars to commenters – especially those who are called out in our Reader Roundup – but we're also willing to take stars away, especially from those who have been abusing their privileges by promoting, responding to and approving trollish comments and comments left by banned commenters. Because our commenting system records the administrative actions of our editors & moderators (approving, banning, starring, destarring, disemvoweling) and starred commenters (approving) – if it's clear that a starred commenter is approving trollish comments or approving comments left by banned commenters who have returned to talk smack or cry censorship, we will destar that starred commenter, and, in extreme cases, ban her/him as well. Being a starred commenter is a privilege; we expect those who have stars to avoid abusing them.
If you don't have a star, you may be wondering how you acquire one. The answer is simple: Make an effort to provide consistently thoughtful, well-reasoned, funny contributions in the commenting threads of this site. If you've been on the site for a while and think you deserve a star – but haven't received one yet – it's likely that you've been inadvertently overlooked, and you can feel free to email a query or reminder to Hortense, our moderator, or one of the editors. (Please include a link to your profile page!) What makes a good comment versus a bad one? Click here.