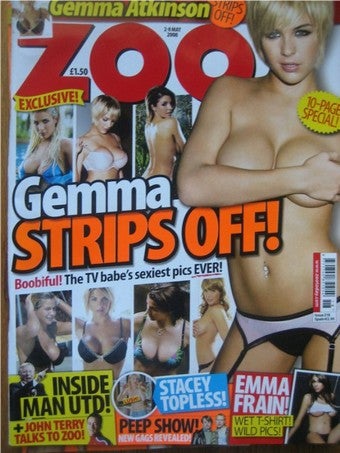 A British study says "lad mags" with scantily clad women are responsible for sexualizing young people, and that the government should put age restrictions on their sale. But would such restrictions fix the problem?
In a report to be officially released tomorrow, psychologist Dr. Linda Papadopoulos says the magazines — like Zoo and Nuts — cause "a drip, drip effect" in which a particular kind of sexuality seeps into kids' lives at younger and younger ages. According to the Guardian, Papadopoulos writes,
Look at porn stars, and look how an average girl now looks. It's seeped into every day: fake breasts, fuck-me shoes ... We are hypersexualising girls, telling them that their desirability relies on being desired. They want to please at any cost. [...] And we are masculinising boys – many feel they can't live up to the porn ideal, sleeping with lots of women.
The study recommends not only age restrictions on the sale of lad mags, but new placement of the offending periodicals, which are often positioned at kids' eye levels, next to comics. And these recommendations come just as Britain's Royal College of Psychiatrists calls for warning labels on airbrushed images of women to help stop eating disorders. The Guardian asked Natasha Walter — a vocal critique of lad mags and their influence on young girls — whether such restrictions would help. Though she endorsed moving the magazines to the top shelves of newsstands in order to create "some spaces where people can be free of this kind of thing," she also said,