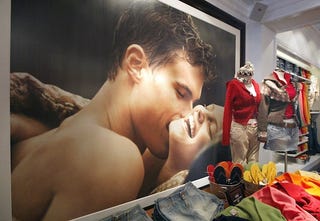 An Abercrombie & Fitch employee in northern California is alleging she was fired for refusing to remove her hijab, or headscarf marking her Muslim observance. Abercrombie's pursuit of a homogeneous army of "perfect" employees appears to have snared it again!
According to the AP, "the Council on American-Islamic Relations said Wednesday it filed an Equal Employment Opportunity Commission complaint on behalf of Hani Khan." Khan says she was told she would be allowed to wear a hijab, but a visiting district manager disputed that. She says she was fired when she refused to take it off.
In 2008, an Oklahoma accused Abercrombie of refusing to hire her because her head scarf "didn't fit the chain's image." That lawsuit, filed last year, is still in progress.