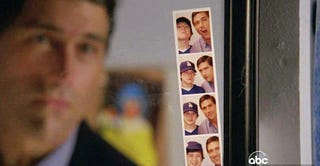 Last night's Jack-centric episode—"Lighthouse"—was a mirror image of the first season's Jack-centric episode—"White Rabbit"—so it makes sense that Jack spent a lot of time looking at reflective surfaces, and reflecting on himself.
With all the mirrors and daddy issues on last night's episode, all I couldn't help but think of "Mirror, Father, Mirror" from Ghost World.




In the opening scenes of this season's premiere, we saw (sideways) Jack taking a good look at himself in the airplane bathroom mirror, noticing a mysterious cut on his neck. Last night, sideways Jack took a good look at himself in his own bathroom mirror, and noticed his appendectomy scar.