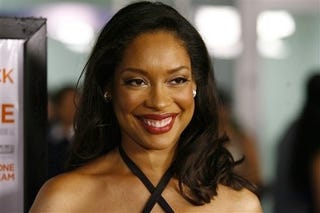 I fucking love Gina Torres, so I was excited to hear that she is the voice of Superwoman in the new film Justice League: Crisis on Two Earths. I was not thrilled with her comments on women in comics.
Aww, Gina why?
Wired reports that Torres released a press statement, which reads:
"There aren't really any skinny bitches in the world of comic books," Torres said in a press release Tuesday. "They've got muscle."
I can't get behind the skinny bitch thing, particularly considering that comic book heroines are drawn to be idealized representations of all women. The women within the pages aren't skinny. They aren't fat either. They are drawn to entice and titillate, and muscle tone is depicted but minimal (see: She Hulk vs. Hulk). Torres clarifies a bit in her next statement.