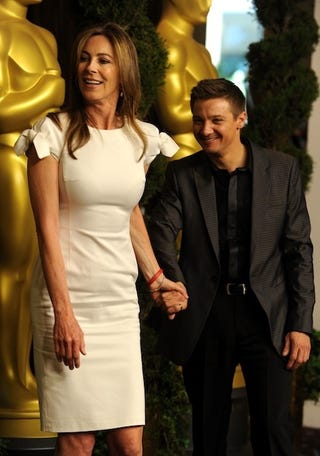 Is there a "sexist plot" against Kathryn Bigelow, as The Daily Beast alleges? Maybe not.
Writes Nicole LaPorte,
Perhaps in order to not dwell on the shame of [how long it has taken for a woman to win these awards], over the last few months-as Bigelow has racked up award after award, flashed her 200-watt smile at the cameras, and gracefully deflected questions about her ex-husband and Oscar rival, James Cameron-much of the talk about Bigelow has been couched in female-empowerment tones. But many in Hollywood lament all the attention focused on her gender, not only because it detracts from her merit as a candidate, but because it hints at the question that no one dares ask: If she wins, will it be because she's a woman?
LaPorte also touches on the focus on Bigelow's looks and the idea that she and her film, The Hurt Locker, are a novelty because it's a "man's movie," which she calls a "a back-handed compliment drenched in machismo that essentially boils down to: How cool is that? A chick made a dude flick!"
All valid points. Some people have acted like sexist fools, it's true. And in a fantasy world, no one would talk about her legs or her cheekbones. That said, the discourse on Bigelow has been relatively civilized, not least because of her discipline about sticking to the film's substance and avoiding any other storyline — her ex-husband, her gender, even whether the film is political. She's talked about in a way that is often specific to her gender, but on the other hand, this is Hollywood, and they love storylines. And her film is actually being taken seriously on its own merits.