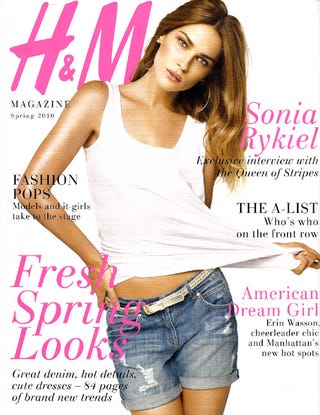 Is H&M Magazine just a giant advertisement for what's inside H&M stores? Yes. But that doesn't mean it doesn't have tiny glimmers of awesome.
H&M is glossy and oversized. And, for some reason, when scanned, the pages show up with narrow horizontal lines all over them. But if you can overlook that, you'll find that H&M has fun with fashion.
Ads are sparse in H&M: There are, of course, a couple of H&M ads, as well as a hair dye advertisement and a shoe ad. But the magalog actually has stories! Trend pieces, fashion shoots, etc.
Of course, since the store is so on-trend, it's tough to say if these "trend" pages — there are loads — are newsy. They really just exist to prove how H&M is keeping up with what's on the runway and what celebs are wearing. A "Flower Power" page features Alexa Chung in a floral dress and then 12 floral items — dresses, pants, sneakers — sold at H&M.
The thing is, "advertorial" is less offensive in this context than in mainstream fashion mags. Because when Marie Claire dedicates page after page to one designer who happens to be an advertiser, at worst, it seems like a conflict of interests; at best it seems like sucking up. H&M exists to promote H&M clothing. It's transparent: You're opening the magazine knowing that you're entering the world of the store. (Plus, the mag is free in stores.) There's no deceit; you're not expecting any kind of editorial standards.