For fall 2010, Anna Sui's vision didn't veer from her usual comfort zone: Flrity, fun garments with a handmade vibe. Touches of embroidery, floral prints and velvet in saturated hues make Old World ideas look new and current.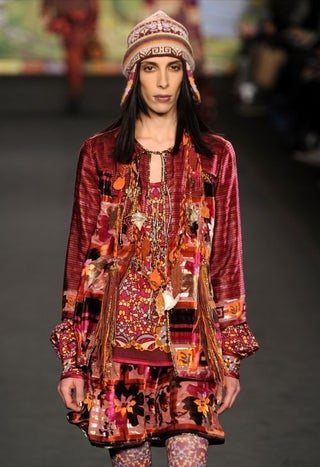 S
This ensemble really represents the bulk of the collection: Lots of patterns, loose shapes, but girlish, and done in with optimism and coziness.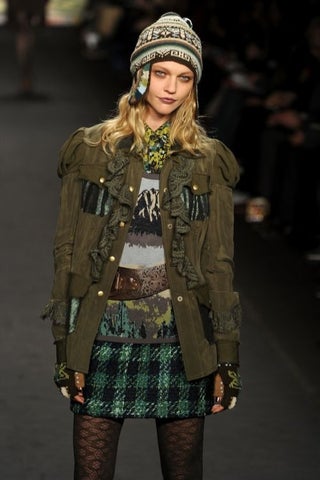 S
Tonight we're gonna party like it's 1993.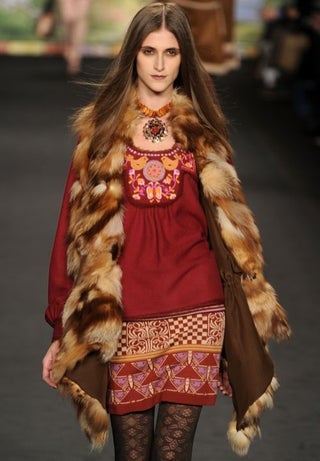 S
I think the loose peasant dresses are pretty great: Pair with black tights or, as seen here, patterned ones and you've got an easy, pretty fall outfit.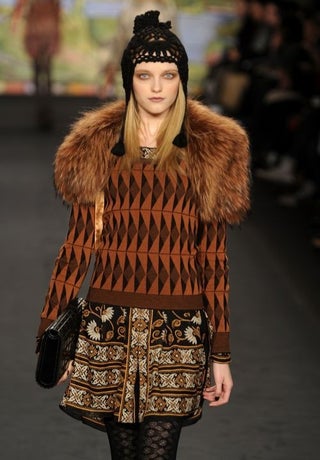 S
The idea of mixing patterns always scares me, but when it looks this good, how can you resist? I think they key is fit — if the sweater were tight and pulling over an enormous rack (like mine), it wouldn't work.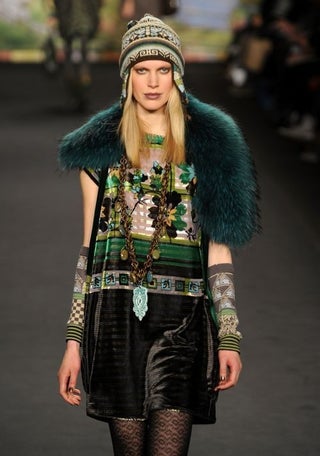 S
Wow. Armwarmers! And the velvet looks so plush. I love the rich, unexpected colors here.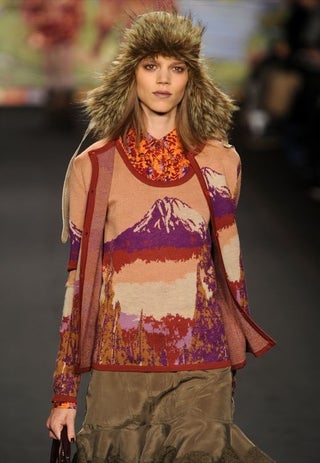 S
Take me home, to the place where I belong! West Virginia, Mountain Mama… La la la, I forget the words.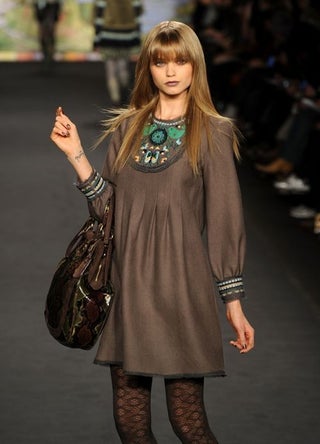 S
Yeah yeah yeah, babydoll dresses are shapeless and unflattering, blah blah blah. I love this. LOVE IT.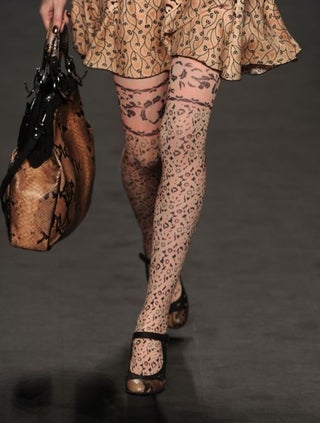 S
Anna Sui has always created unabashedly girly things, and these tights — paired with Mary Janes, no less! — are completely classic Sui.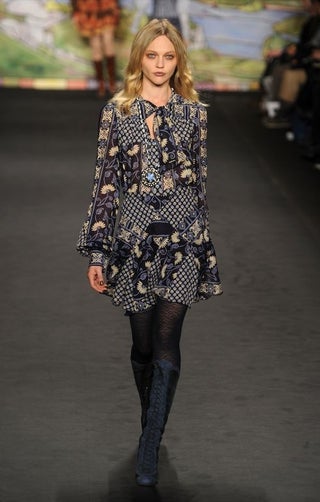 S
Kind of rock 'n roll, kind of hippie, kind of '70s, kind of '90s… Totally comfy and cute.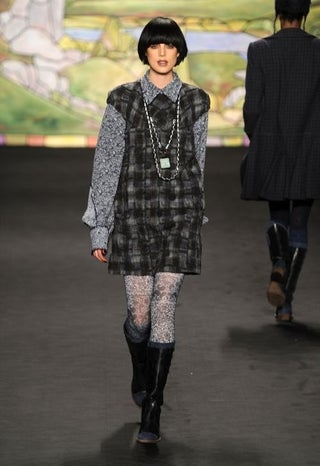 S
OH HAI AGYNESS. Gonna go home and listen to some Pearl Jam?
S
Loving the warm color palette: No beige or muted Marc Jacobs mustard here!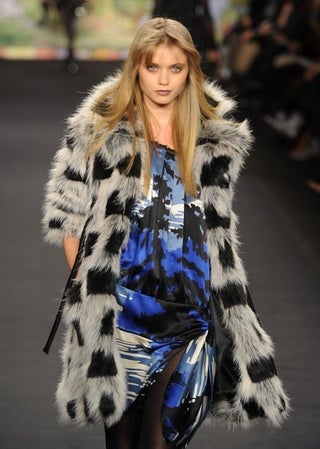 S
There was, however, quite a bit of fur on the runway. Some traditional stoles in non-traditional colors, as well as this… er… unique… coat. Kinda looks like a dead Ewok to me.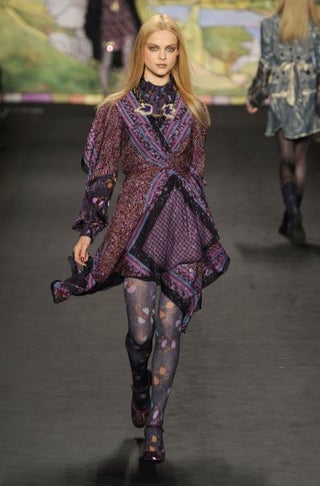 S
Anna Sui loves purple. I think I had a Gunne Sax/Jessica McClintock dress like this when I was in 4th grade.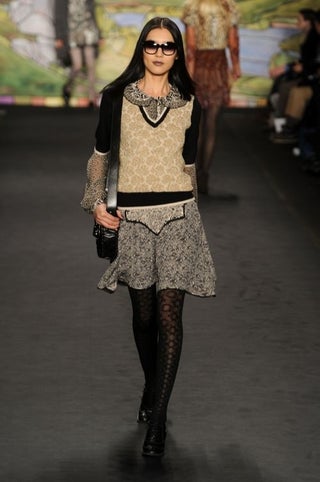 S
In this collection, black doesn't mean somber…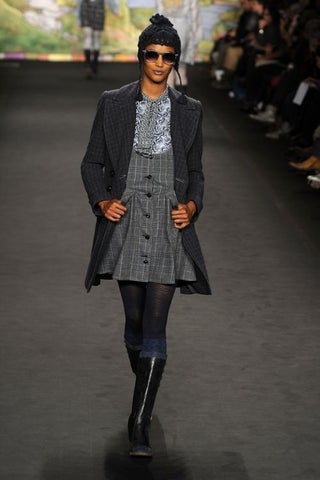 S
…And grey isn't "safe" or boring.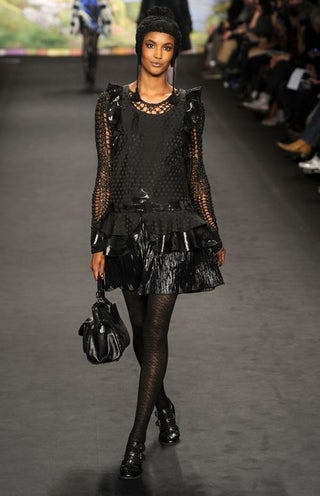 S
In fact, this kicky little black number is begging to be taken to a party.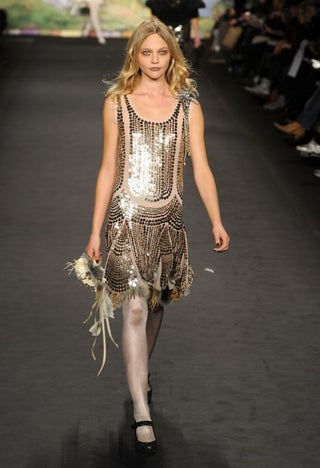 S
She likes her jazz hot and her champagne cold. And served in a saucer coupe, not a flute.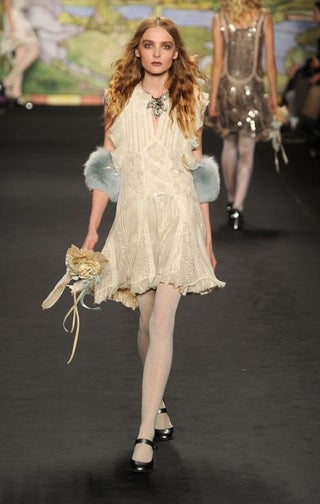 S
Is this little dress almost too sweet? Is she going to tapdance and sing "The Good Ship Lollipop" in a minute? (I hope so!)
S
The textures! Everything just looks so soft and touchable. And easy to wear.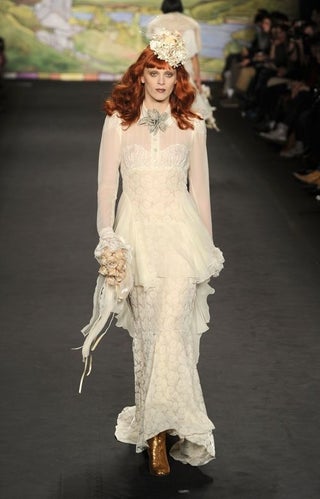 S
A wedding belle! The metallic boots make the frothy, lacey dress bearable.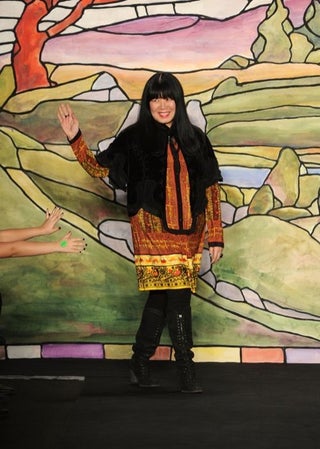 S
The lady takes a bow.
[Images via Getty.]