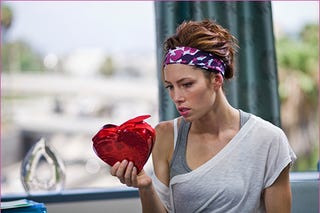 Though critics thoroughly despise Valentine's Day, its release date and sheer volume of stars may guarantee box office success, making it the film equivalent of being jumped by a gang of Hollywood actors and having $10.50 stolen from your wallet.
Valentine's Day, which opens today, is a romantic comedy (one that's "neither romantic, nor remotely comedic") that is notable mainly for the absurd amount of A-list actors in its cast. It seems some Hollywood executive reasoned that if people liked Love Actually, which had about a dozen stars, a film with 24 recognizable actors must make twice as much money!
For some reason, Ashton Kutcher is given the most screen-time, and critics have a hard time even remembering the names of the other actors. Betsy Sharkey of the Los Angeles Times is one of the only reviewers who attempts to summarize the plot. She writes:
Here's the setup: Ashton loves Alba, while his best friend, Jennifer Garner, is in love with Patrick Dempsey, who lives in the same building as teenager Taylor Swift, who's in love with Taylor Lautner, who goes to the same high school as Emma Roberts, who's contemplating sex with boyfriend Carter Jenkins. Emma also baby-sits 10-year-old Bryce Robinson, who is sure he's found "the one," while his long-married grandparents Hector Elizondo and Shirley MacLaine consider renewing their vows.

Stay with me here, we're not finished yet. Across town, Topher Grace... and Anne Hathaway are getting serious, Eric Dane's football career is suddenly in question, which means his agent Queen Latifah has issues, to say nothing of his publicist Jessica Biel, whose anti-Valentine's Day party is in jeopardy too. Meanwhile, local TV sportscaster Jamie Foxx is forced to spend the day reporting on romance thanks to his heartless boss Kathy Bates, when he really needs Biel to score him an interview with Dane. Flying high above all these entanglements are flirty seatmates Bradley Cooper and Julia Roberts on a transatlantic, or should I say transromantic, flight bound for L.A., though considering the mess below who would want to land.
Anne Hathaway, Julia Roberts, and Emma Roberts are singled out by several critics for turning in decent performances, while Jessica Biel is described as "intolerable" (although Salon praises her for having "long legs, a brilliant smile, and a form-fitting designer wardrobe," which "helped [the male reviewer] sit through Valentine's Day). Taylor Swift's scenes are one of the film's low points - according to Variety she, "seems entirely undirected" by Garry Marshall.
Though many reviews include elaborate metaphors comparing Valentine's Day to a "box of rancid heart-shaped chocolates," a few delve into some deeper analysis. Roger Ebert notes that despite a huge cast, the movie features no Asian actors, and Jamie Foxx, Queen Latifah, and George Lopez are all given stereotypical ethnic roles. NPR gives the film one of its only decent reviews, but critic Ella Taylor admits, "Valentine's Day stumps for teen abstinence and marrying your best friend, and warns that career women may end up alone."
Earlier today, Lindsay tried to spread that word that "Valentine's Day isn't actually the worst movie I've ever seen, because it's far too boring and forgettable." While the film's box office success may be inevitable, perhaps the best gift we can give our loved ones this weekend is warning them not to waste 125 minutes of their lives on such schlock.