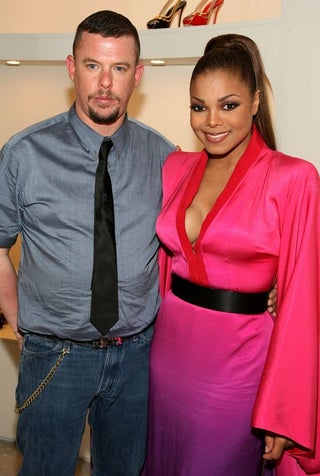 S
A garment by Alexander McQueen is not necessarily a "safe" pick for a celebrity.
His designs are quite often edgy, a little weird, and not soft, sexy or ladylike — in the traditional sense. So the women who have dared to wear McQueen on the red carpet usually have the benefit of standing out. A few examples, in a gallery, below.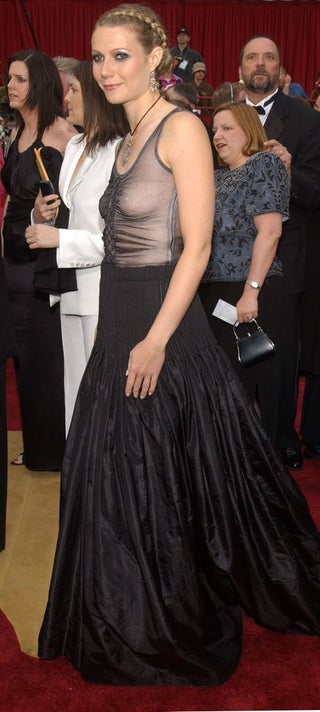 S
Gwyneth Paltrow, at the 2002 Academy Awards. People hated this dress, with its off-colored top and nipple visibility. But sometimes bad publicity is better than good publicity: Pictures of McQueen's Goth lite gown were everywhere that year.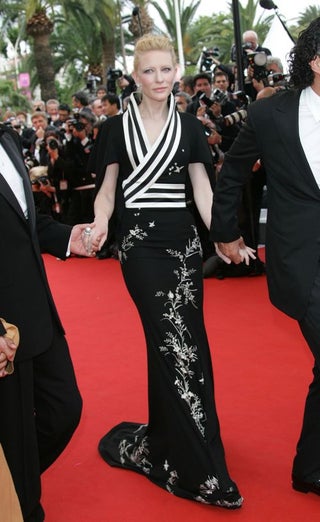 S
Cate Blanchett, at the premiere of Babel in Cannes, May 2006. There were a few themes McQueen often returned to: Royalty, Asian, Goth. This modern take on a kimono or yukata is all the more divine because of the train.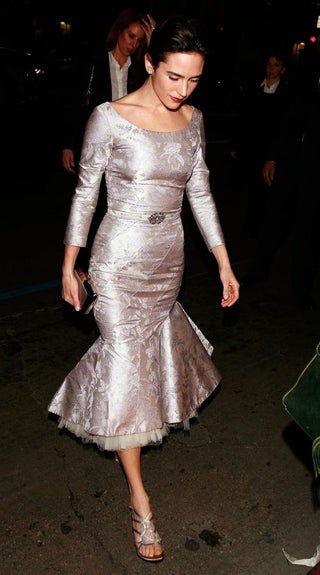 S
Jennifer Connolly, at the premiere of Blood Diamond, December 2006. McQueen loved to play with structure and volume. Some of his most sumptuous designs had full, ballerina-worthy skirts.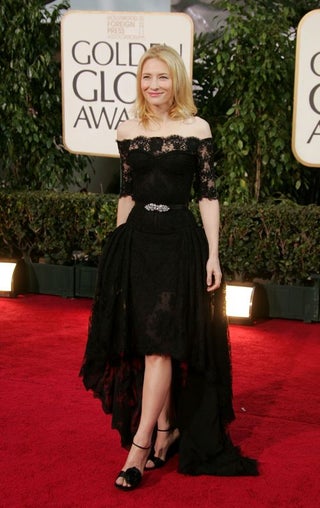 S
Cate again: January 2007, at the Golden Globes. "Black Lace dress" doesn't sound new or interesting, but McQueen knew how to make it unique.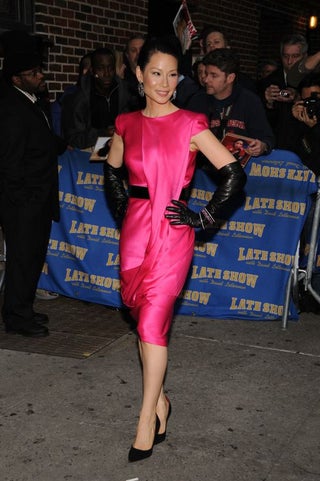 S
Lucy Liu at the Late Show With David Letterman, 2008. A vivid hue and interesting drape have strong shoulders as a grounding element.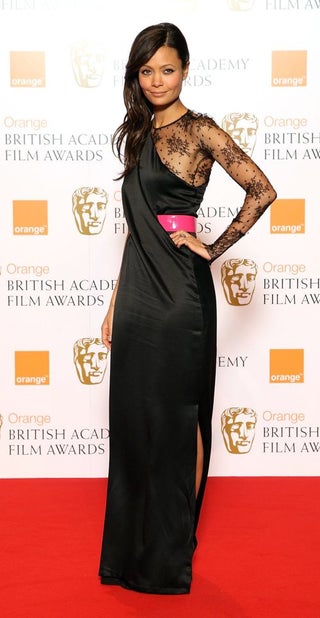 S
More draping, with lace and a neon belt. On Thandie Newton, at the Orange British Academy Film Awards in 2008.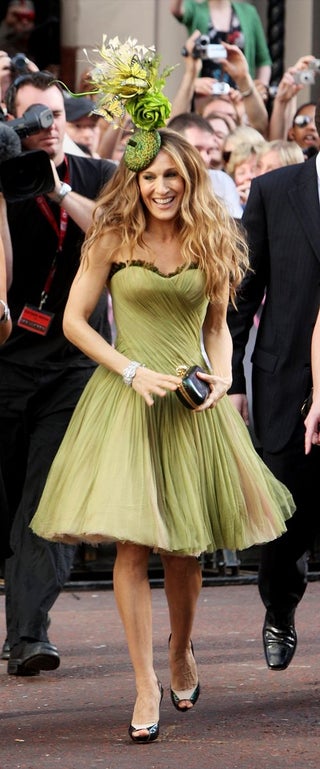 S
Sarah Jessica Parker wore a McQueen dress and shoes — with a Philip Treacy hat — to the London premiere of Sex And The City, May 2008. Some found the get-up ridiculous, but there's no denying the beauty of that impeccably made little frock.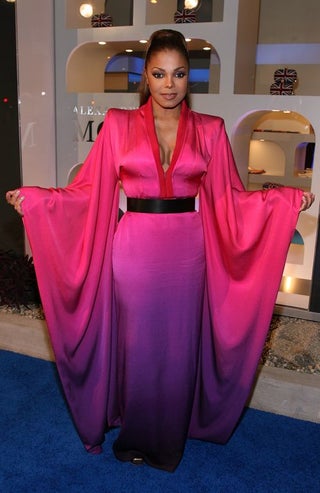 S
May 2008: At the opening of the Alexander McQueen store in Los Angeles, Janet Jackson was East-meets-outer space.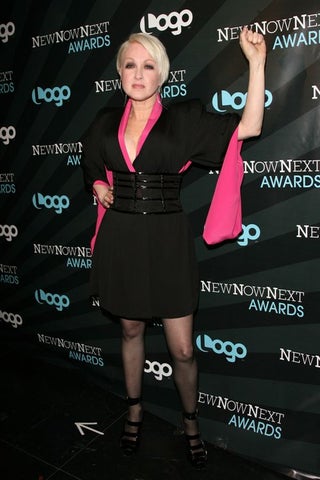 S
Cyndi Lauper rocked the Asian-inspired sleeves to the NewNowNext Awards in May 2008.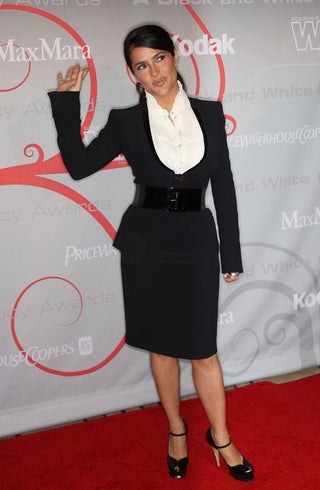 S
June 2008: Salma Hayek was buttoned-up yet sexy in McQueen at the Women In Film Crystal Lucy awards.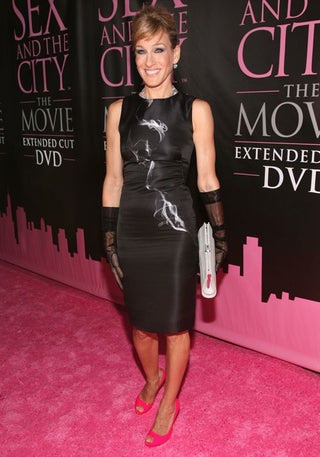 S
Sarah Jessica Parker wore McQueen again for the SATC DVD launch in September 2008.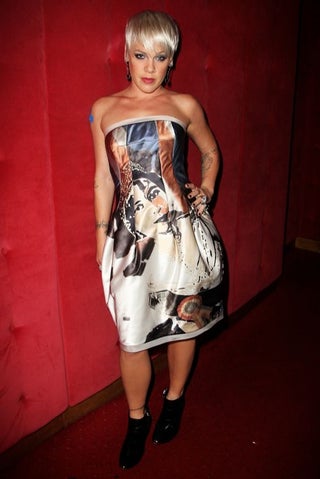 S
Pink chose a strapless McQueen number for her album release party in November 2008.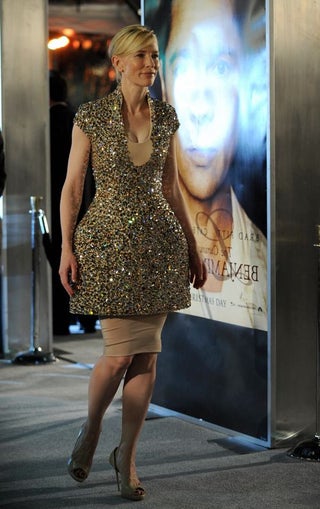 S
Sparkles and an exaggerated hip might scare some off, but Cate the Great looked comfortable at the December 2008 premiere of The Curious Case of Benjamin Button.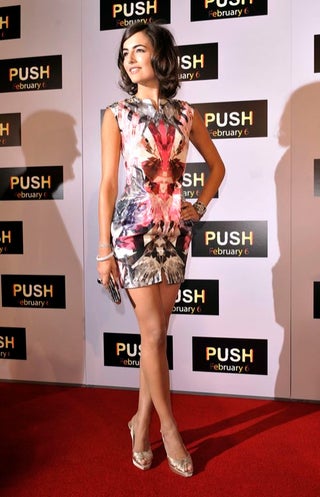 S
Camilla Belle was one of the many celebs who were enchanted by McQueen's kaleidoscope prints. This was the premiere of Push, in January 2009.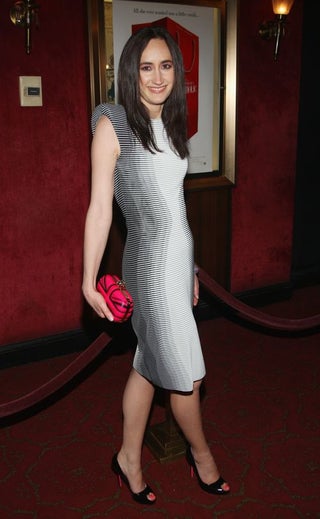 S
Confessions Of A Shopaholic author Sophie Kinsella wore McQueen — and carried a McQueen Union Jack clutch — to the premiere of the film based on her book in February 2009.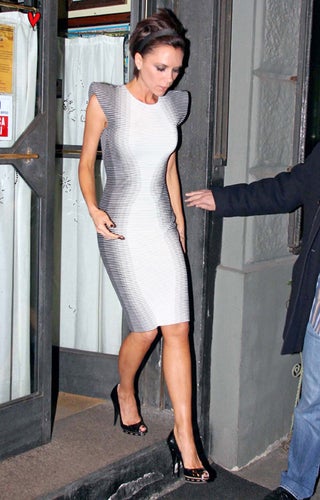 S
Victoria Beckham sported the same dress in Milan in March 2009. The stripes make an hour glass shape, an illusion any woman would welcome.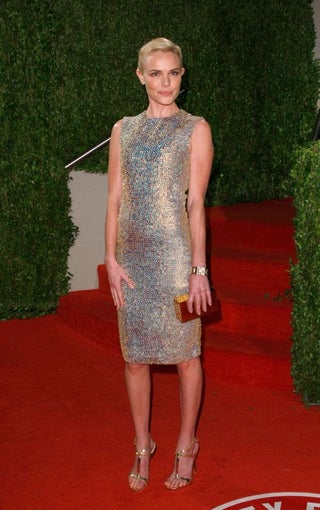 S
The glittery little dress Kate Bosworth wore to the Vanity Fair Oscar party in February 2009 is basically a portable party. Wherever you go, you're the most fun person in the room.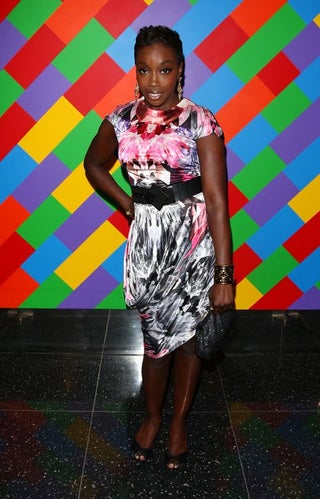 S
Singer Estelle, at a MOMA party in June 2009.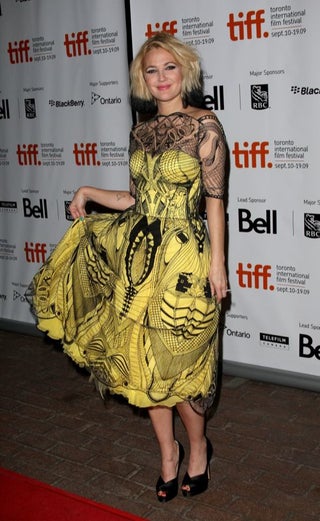 S
Drew Barrymore picked McQueen to wear to a screening of her directorial debut, Whip It, at the Toronto International Film Festival. The cob-web effect of the black lace over the yellow fabric really makes this one stand out.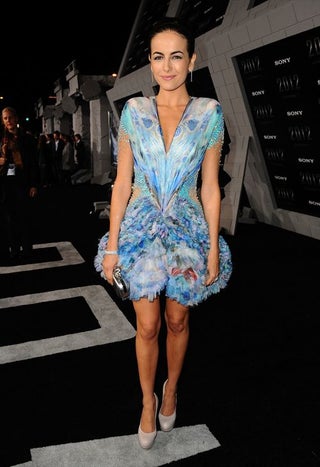 S
Camilla Belle, November 2009: Techno Swan Lake.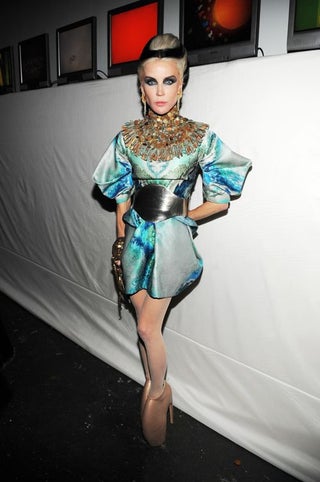 S
Daphne Guinness, November 2009: The Queen Of The Galaxy commands your attention.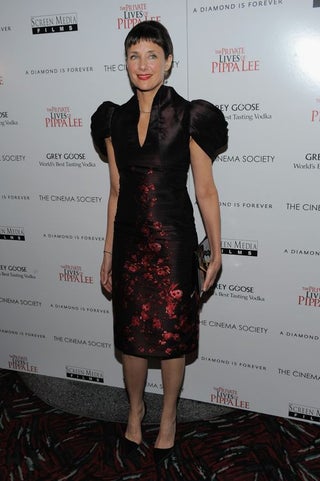 S
Director Rebecca Miller, at a screening of The Private Lives Of Pippa Lee, looks almost like the Red Queen from Alice In Wonderland… On her day off.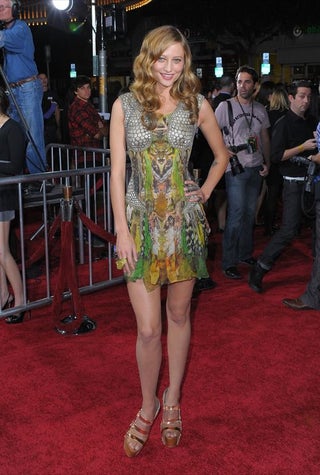 S
Noot Sear wore eye-tricking prints to the premiere of New Moon in November 2009.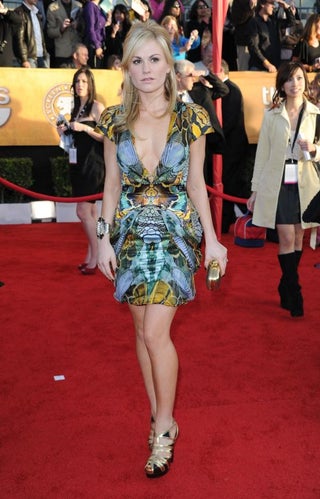 S
Anna Paquin: Another fan.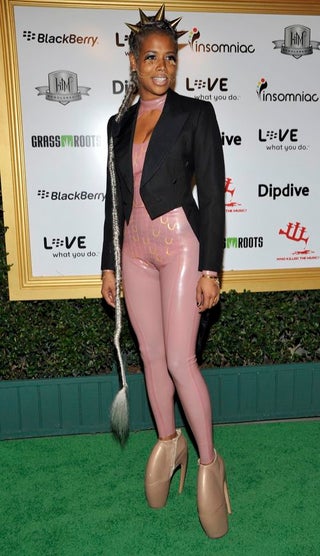 S
Kelis wore McQueen's hoof-like heels to an event in January of this year.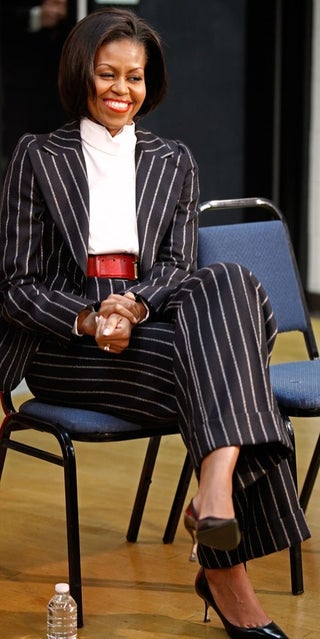 S
Michelle Obama has worn her McQueen suit several times; most recently she chose it as she began her campaign against childhood obesity. McQueen used exaggerated lapels and a realistic chalk stripe to add whimsy to an otherwise staid ensemble.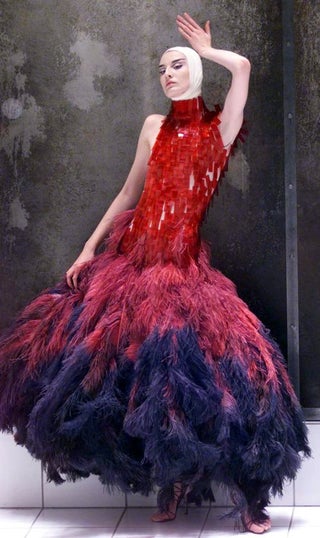 S
As far as I know, this spectacular dress shown in London in September 2000 never made it to a red carpet; I wish it had. I saw this dress in person at an FIT exhibit called Gothic: Dark Glamour and was intrigued to discover that the bodice was made from red microscope slides. Sick, and amazing.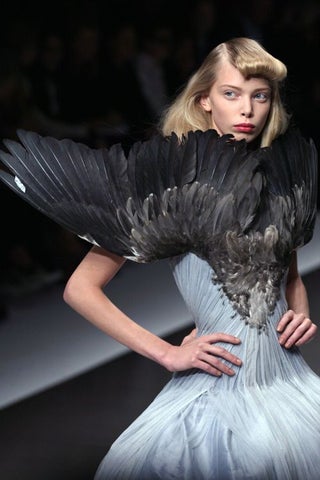 S
Flight of fancy: Another one I wish I'd seen on a celebrity; from October 2007.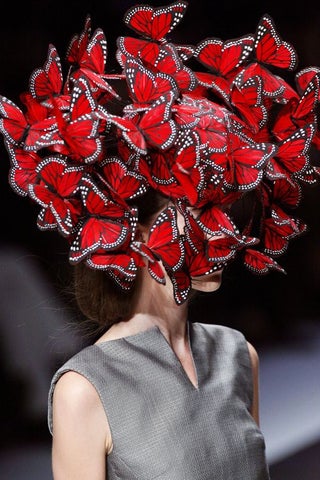 S
Also from October 2007. This man will be missed.
Getty, except Beckham, which is via Bauer-Griffin." />