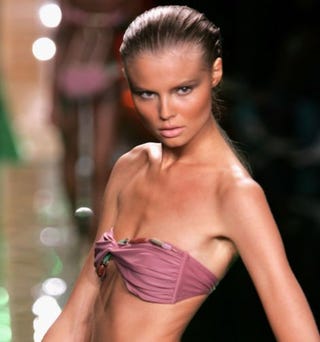 Lisa Hilton, an Oxford-educated writer, thinks we should all stop worrying and learn to love the size-zero model.
[A]re women really so pathologically stupid that they are unable to distinguish the fantasy of the runway from the realities of their own bodies? Arguably, the "size zero" debate is merely another side of the infantilized, hysterical box women thought they had clawed their way out of a century ago, an insidious means of suggesting that though we can run companies and governments we're still not quite rational creatures, too dainty and delicate to cope with the dissonances between the Bambi-limbed aspirations of the catwalk and our own wretched, cellulite-smothered carcasses.
It gets worse. Hilton praises girls who probably suffer from eating disorders for their canny choice "to conform to the demands of their industry in order to maximize their earnings"; any questioning of the safety of the standards to which models are required to measure up is "patronizing and disempowering and reduces legitimate concerns over body issues to juvenile whining"; and, amazingly, the most powerful thing we could all be doing is to just shut up and consume. "We could just leave the models to get on with their job," writes Hilton. "Maybe the radical way to look at this season's shows would be to enjoy the spectacle, buy the frock and get on with something more interesting?" On the scale of contrarianism-for-contrarianism's sake, reading this piece, it's as if Slavoj Zizek got a partial lobotomy, mainlined five years of Vogue, and had a week-long hallucination about the "eating disorder lobby." Perhaps someone should tell Hilton she could make a career out of issuing trite "challenges" to "conventional wisdom." Then we'd at least know what and who to avoid at the bookstore.