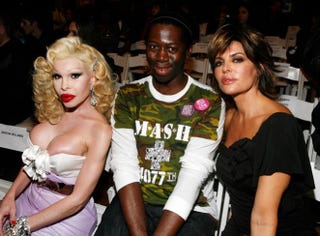 This week, Tyra henchman/runway coach extraordinaire Miss J. Alexander stopped by the Hue-Man Bookstore to promote his book. He talked about being the seventh of ten children, coming out, and the son he had with a French lesbian.
Rather than read from Follow The Model: Miss J's Guide to Unleashing Presence, Poise, and Power, Miss J. spoke off the cuff to the standing room only crowd. Which was mostly women, but included a perhaps surprising number of thugged-out looking men. Also, there was one really awesome dude in a purple chiffon dress, sequined jacket, and sparkly fishnets. "I'm here to see my people," announced Miss J. as he took his seat behind the folding table in front of the Gay & Lesbian section. Photographers took his picture.
Then he told everyone about his family. He barely even stumbled over the order of his nine siblings' names, before adding that he'd buried six of them: some died by violence — one, he said, was murdered by a spouse intent on insurance fraud — and others from cancer, diseases, and accidents. Alexander Jenkins' trip out of the South Bronx (and into modeling, and into runway coaching, and into judging America's Next Top Model) only happened, he said, because he worked very hard. And was very lucky — and capable of recognizing it.
"It was fierce, mentally and emotionally, therapy, writing the book," he said. His family was violent: he described how once his mother punched his brother at the dinner table, driving the fork he was eating with into the roof of his mouth. (The brother had said, "I didn't ask to be born!") Miss J. himself fought with her frequently. He described his mother slapping him in front of "Yolanda, the beautiful caramel-colored girl I had a crush on" at age 11, and how he in retribution attacked her while she was in the bath — a story that he told at her funeral. "I don't understand," he asked the audience at one point, "why we hurt our children when we know what it's like, coming up like that? Why do we do it to the next generation?"
A man in baggy Sean John jeans, sitting with his legs spread waaaaay apart, muttered, "Because it's effective."
A woman stood up. "J., it's because it's conditioned behavior. It's conditioned. You learn violence and it's the only way you know to deal with things." He looked puzzled, as if this were a totally new idea.
"I went through my wanting good hair phase, my wanting to be white phase, all my insecure phases," he went on. He worked selling newspaper subscriptions from the age of 12 to finance his wardrobe, because his mother didn't have the money for — or wouldn't spend it on — the kinds of clothes he wanted. At his Catholic high school, he joined the choir. Because of the robes. "Couldn't sing a lick, but I'd swish around in the robes like a ball gown. It felt good!" Once, when the Gay Pride parade was on television, his mother shushed him for making a homophobic comment. "She was there with her Flintstone's jelly jar shot glass for the Dewar's, smoking a Pall Mall Gold, and she said, 'You should leave those boys alone.' I said, 'Me?' She said, 'Well, you are, aren't you?'" Later, he was passed over for a job as a camp counselor. He'd gone to the interview in cut-off shorts and a tank top. "'You didn't get the job because they thought you were gay,' said a friend. Thought?" exclaimed J., "It wasn't a thought! I am!"
"Every time I've been called names, every time I've been chased — I like to fight though. Miss J. likes a good fight. I've fought in heels and ball gowns."
Homophobia is not an issue he faced in the fashion industry — but racism is. Miss J., who sometimes works as a casting director, spoke of his disappointment at designers who won't book black models. "The ones I hate the most are the designers who put one black girl in their show," he said. "One." He pointed to Kimora Lee Simmons as an example of a designer who always has diverse casts — I would add that Oscar de la Renta is another. One black model in a runway cast of 30 or 40 looks does announce itself as tokenism of the worst kind, but it still is worth remembering that a few seasons ago, there were many designers who booked zero black models.