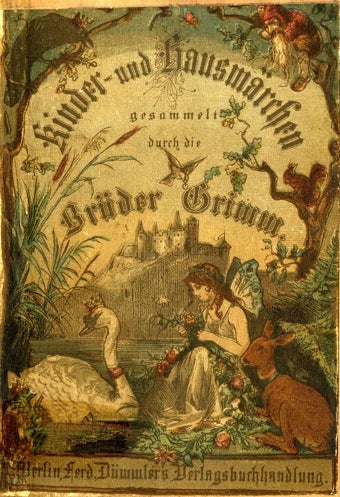 What do the Wicked Stepmother, Medea, Pandora and Lilith have in common? They're all badass bitches, and they're all getting a revamp. At least, if Lillian Slugocki's call for submissions works out the way she hopes it will.
Lillian Slugocki is looking to create an anthology of revised fairy tales, rewritten to reflect a fresh perspective, and a feminist viewpoint. She titled her project Tales from the Velvet Chamber: An Anthology of Revisioned Fairy-tales and Myth and has posted the first story - a retelling of Snow White from the perspective of the Queen - on her blog. It's a good read, but what is more interesting is her request for submissions. She wants
Stories that radically revise stereotypes of "bad women" in the Bible, in myth and in fairy-tales. Stories that aren't afraid to be literary, transgressive, dark, and sexy. Think: Lilith, Medea, the Wicked Stepmother, the Evil Witch, Pandora, Eve, crones, sibyls, fates, muses. Contemporary adaptations are fine... The spine: We begin to see these women through another lens.
I'll admit that my first thought after reading about Slugocki's project was that sounds familiar. The project clearly owes a lot to the work of Angela Carter and her amazing book of short stories, The Bloody Chamber. Fortunately, Slugocki cites Carter as a major influence on the project and writes eloquently about the power of female sexuality in Carter's transgressive version of Beauty and the Beast. Slugocki argues:
One of Angela Carter's strategies is to reveal the hidden societal and religious constraints these women had to endure. She shows us the broader social and political picture. Carter believed that "a successful retelling delicately re-imagines the story's content while preserving the boundaries of a form that led to such remarkable narrative stability." The idea is not to throw the baby out with the bathwater. The idea is retain the original magic, the original enchantment, the glamour, the timelessness that is evoked with Once upon a time.
The reworking and remaking of classic Grimm's tales is something we've seen a lot in recent years. Photographer Dina Goldstein created a series on "Fallen Princesses," which took the Disney version of the helpless heroine and threw her into decidedly modern (and quite dark) settings. Barbara Walker has also tried her hand at rewriting Grimm's stories in her book Feminist Fairy Tales. And although there is no feminist bent (so far as we can tell) to Tim Burton's upcoming film, his remarking of Alice in Wonderland follows a similar pattern of peeling away the glossy, happy Disney veneer to reveal the latent violence lurking underneath. Slugocki is clearly not the only one familiar with Carter's work.