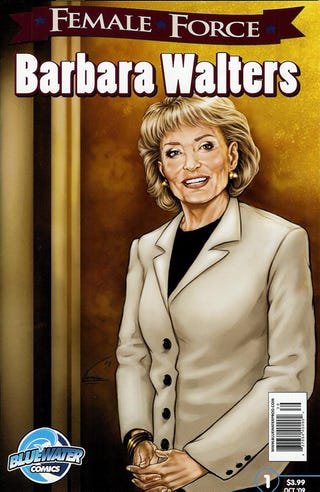 In this issue of Female Force's illustrated biographies, Barbara Walters must overcome sexism by dancing in a black negligee and don superhero tights (literally) to save defenseless damsel Elisabeth Hasselbeck from her greatest foe: "Morbidly obese" supervillian Rosie O'Donnell.
The comic starts with Barbara coming up with the idea for The View. But before she could create a platform for Elisabeth to spew Republican talking points and Whoopi to misread a teleprompter, Barbara had to "pay some major dues." Apparently, this included watching David Letterman report the news in drag.
Like the Oprah Winfrey Female Force comic, which was illustrated by an Eminem look-alike, the author draws himself into Babs' story. Here, "raconteur" Robert Schnakenberg warns us that he's no authority on Barbara Walters, he's just a dude with access to a TiVo.