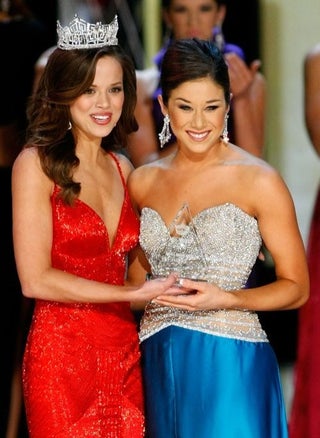 S
Held last night in Las Vegas in preparation for the show on Saturday, the Miss America prelims featured glitter, animal prints, and smiles so wide they just had to hurt.
Here, Miss America 2009 Katie R. Stam (on the left) presents the Talent award to Kristy Cavinder, Miss California.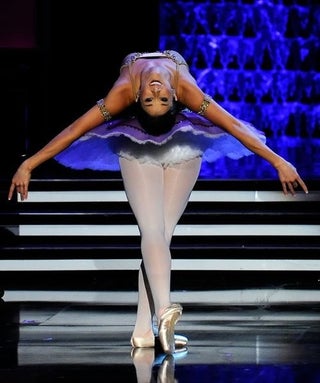 S
And here, Kristy Cavinder, Miss California, proves that she won the damn award fair and square. Spines everywhere: Jealous.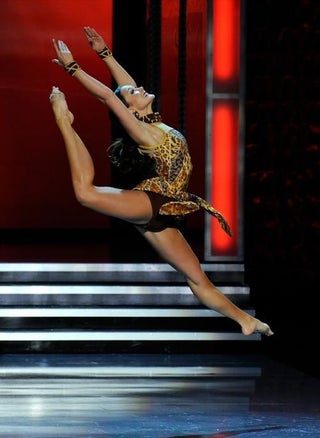 S
Liz Cochran, Miss Alabama: Just a little something she choreographed herself; an interpretive dance expressing her deep love for Timon and Pumbaa.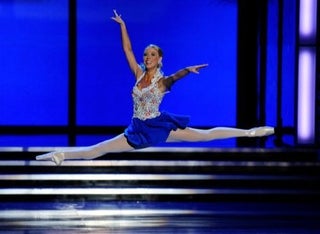 S
Katherine Elizabeth Southard, Miss North Carolina: Gravity-defying.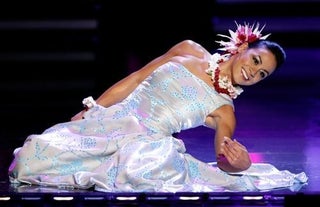 S
It's sorta sad that Raeceen Anuenue Woolford, Miss Hawaii, is getting her pretty dress all dusty, but you've gotta love the floral burst in the hair!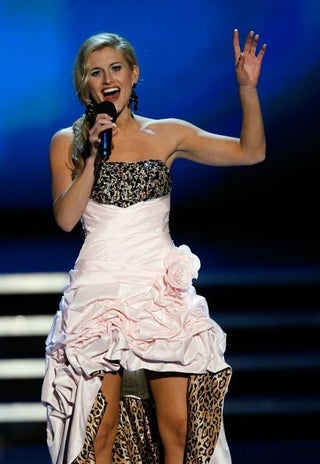 S
Let's guess what Brooke Catherine Poklemba, Miss Maryland, is singing: Something from Cats? A ditty from Jungle Book? While you're thinking, here is a joke: Which animal is the worst to play cards with? Answer (highlight with mouse to see): A cheetah.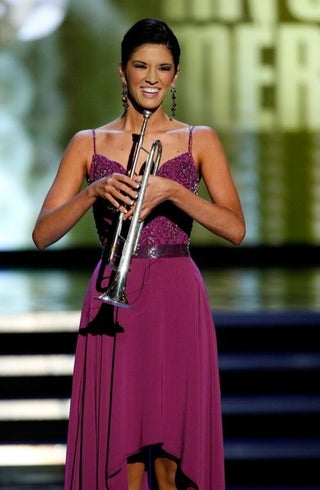 S
Becki Ronen, Miss Kansas: "And now for something made popular by 50 Cent."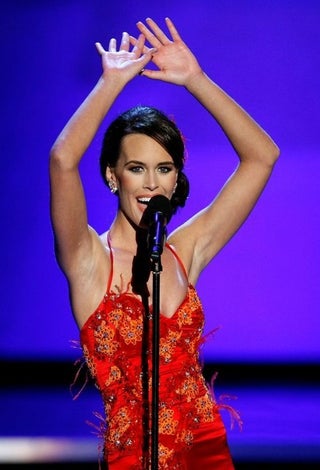 S
"Won't you play me, le jazz hot, baby…" — Brittany Wiser, Miss Montana. She's also hoping for a deodorant deal.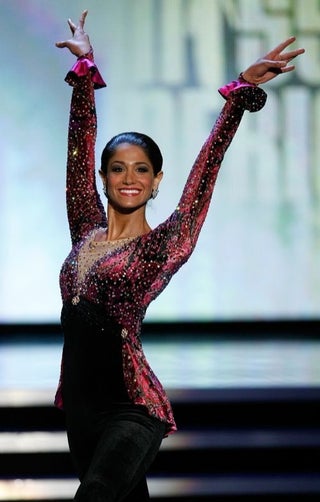 S
Dear Shannon Doyle, Miss Pennsylvania: Sorry, just can't get past those cuffs!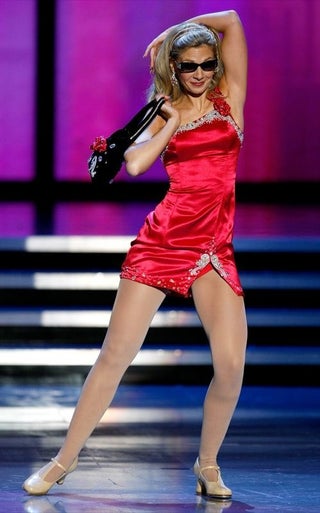 S
Sharalynn Kuziak, Miss Connecticut, presents a number that simultaneously shows off her dance moves and her talent for accessorizing.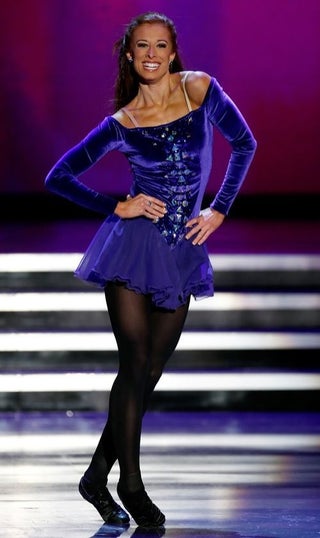 S
Rachael Todd, Miss Florida: Don't you know that visible bra straps can get you disqualified? Oh, wait. That was in Stick It. This is not gymnicestics!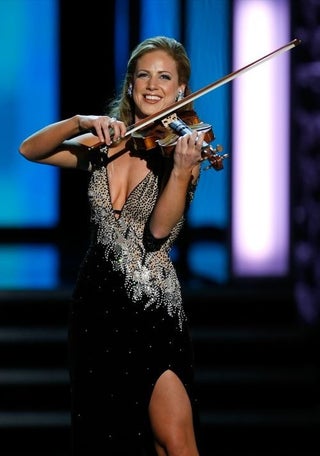 S
Anne Michael Langguth, Miss Iowa, likes her thigh slits high and her necklines low. That way you don't even know where to look when she blows you away with her "The Devil Went Down To Georgia"/Mozart mashup.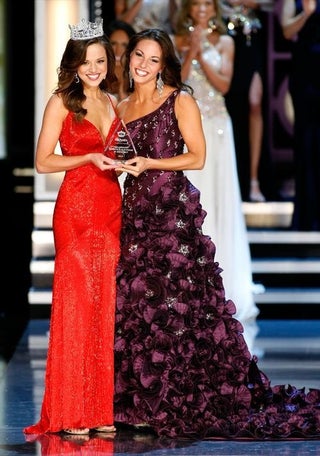 S
Miss America 2009 Katie Stam presents the "Lifestyle & Fitness in Swimsuit award" to Alyse Zwick, Miss New York, whose gown appears to be made of cabbage coral. What does this award mean?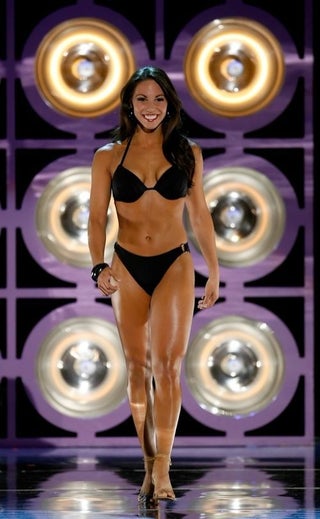 S
It means that Alyse Zwick, Miss New York, looks smokin' hot in a swimsuit.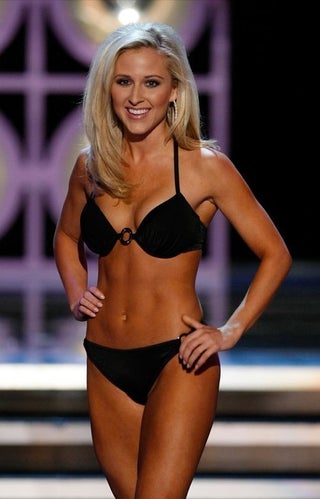 S
Taylor Treat, Miss Oklahoma, needs to fire her airbrush tan maestro. The thighs are Beyoncé, but the forehead is Katy Perry.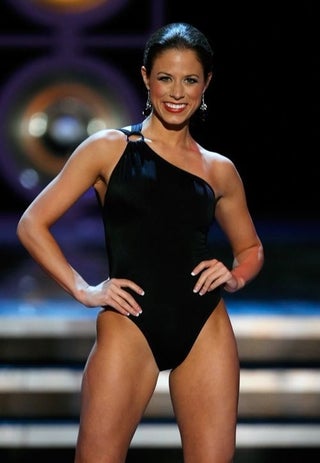 S
Kelly Annette Sloan, Miss South Carolina, is hoping to star in an urban version of Baywatch set at a swanky rooftop pool in New York.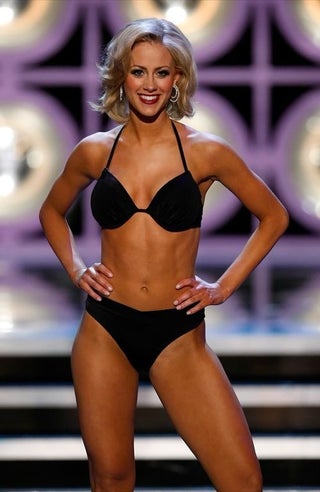 S
Nicole Blaszczyk, Miss Michigan: killer triceps. That is all.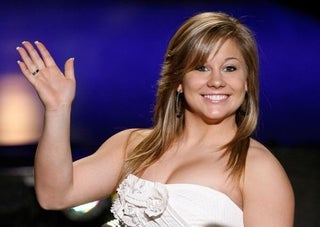 S
Look who's a judge for the pageant: Adorbs gymnast Shawn Johnson!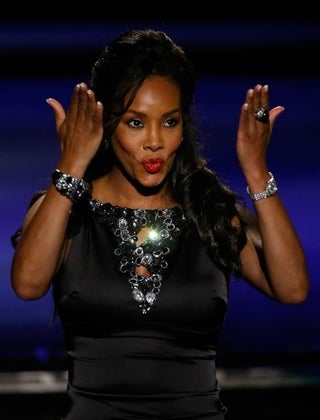 S
Also a judge: actress Vivica A. Fox, who knows a thing or two about gowns encrusted with jewels.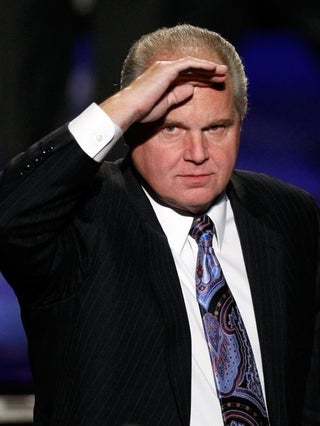 S
Rush Limbaugh: Also a judge. The end.
[Images via Getty.]
Earlier: The Miss America Preliminaries Win The Lulz Competition
Miss America Contestants Continue To Shock & Awe Us With Their "Talents"