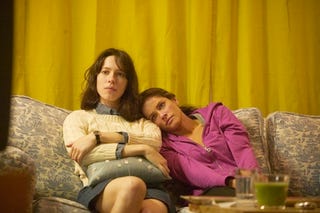 Despite complaints that it's too parochially New York, there's evidence that writer-director Nicole Holofcener's Please Give, currently screening at Sundance, offers something distinctly more relatable: female characters that are neither bitches nor saints.
Holofcener, whose previous films include Walking And Talking, Lovely & Amazing, and Friends With Money, has typically made low-boil, gently satirical films about " upper middle-class neurotics." That's NPR's formulation in comparing her to Woody Allen, a man for whom being too New York was never much of a liability. A useful foil might be Nancy Meyers, but more on that in a moment.
Please Give stars Catherine Keener — Holofcener's frequent muse and alter ego — and Oliver Platt as an antique dealer couple awkwardly waiting until their cranky, elderly neighbor dies and they can take over her apartment. Their lives become entangled with those of the neighbor's granddaughters, played by Rebecca Hall and Amanda Peet, all of which makes for some multigenerational hilarity. (There's no trailer available yet, but this was my favorite of the four clips available).
Though there are aspirational apartments involved (and Holofcener's mom was Woody Allen's set director!), in Holofcenter's world properties and possessions are often fraught. Another way in which she differs from a certain more commercial female filmmaker of contemporary manners is the fact that her female leads aren't underrecognized but ultimately celebrated superwomen. On the contrary: