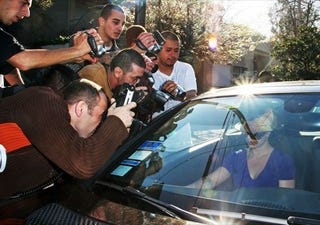 Adrian Grenier's new documentary and this piece about a house painter-turned-photographer have something in common: They're both tales about the paparazzi and our obsession with celebrity.
Neon Tommy, the online publication of the Annenberg School of Journalism, just did a fantastic story about Richard Terry, who was a was a house painter before X17 hired him to follow and photograph celebrities in Los Angeles. The summer of 2005, Terry sat in the sand outside of Jennifer Aniston's Malibu beach house every day for two weeks.
When Courtney Cox finally walked by, Terry was spacing out, shirtless, and using his former t-shirt as a camera case. He scrambled together his camera fast enough to catch Aniston holding Cox's baby. And then, after taking three pictures, the memory card on Terry's camera was full.

He had killed those two and a half weeks waiting for Aniston by "taking pictures of seagulls and all this other shit." The pictures were enough, however.

The photo agency X17 sold them for over $100,000 worldwide, according to X17 co-founder Brandy Navarre. Terry said he earned a profit of about $11,000 for lots of waiting and only a few seconds of actual work.
It could be argued that as a reaction to glossy magazines presenting celebrities as perfect, with flawlessly Photoshopped skin, readers gobble up tabloids (and blogs) which feature candid, unscripted shots — stars dressed down, getting laundry. Photo agencies like X17 — and their employees — make big bucks, while in a poor economy, Condé Nast magazines and small newspapers fold. (A Vietnam vet was homeless until X17 lent him a camera; now he has an apartment in the upscale L.A. neighborhood of Brentwood; in early 2008, The Atlantic did an extensive piece on X17's unique relationship with Britney Spears).