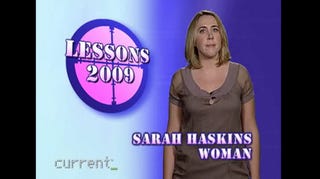 When Sarah Haskins emailed to say that her Target Women career had come to an end, we were sad. But it also gave us a chance to talk to her - below, DILFs, baby bridesmaids and being yelled into greatness.
Dodai: So my first question, is, of course, how do you feel about the end of Target Women?
Sarah: The end of Target Women — or rather, me doing Target Women — is bittersweet. I'm really proud of what I — and everyone who worked on it — accomplished, but I think it's also time to move on and take the funny new places.
Dodai: Looking back, do you have a favorite episode — or "Target"?
Sarah: I have a few: cleaning, "number two", ladyfriends, and Target Women: Ann Curry (which no one liked but me).