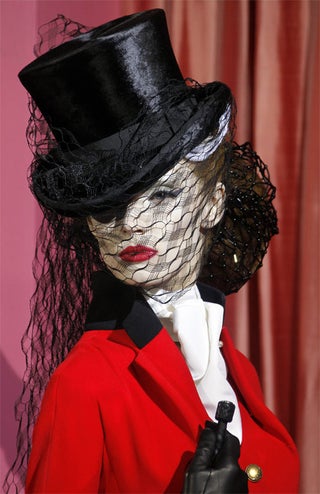 S
John Galliano generally serves up Drama. And his Dior show today in Paris did not disappoint. In the gallery ahead: Horsey get-ups (giddy-ups?), voluminous ball gowns and unsettlingly arched brows!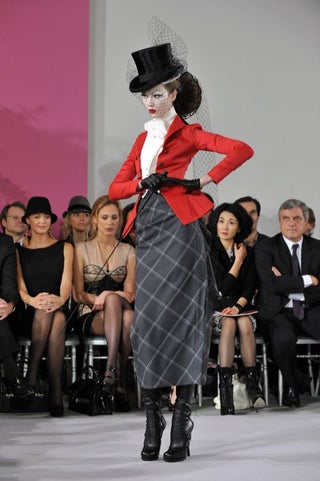 S
Fierce red riding coat, gorgeous plaid skirt. The only problem? It would appear that her ladyship's steed has gone astray.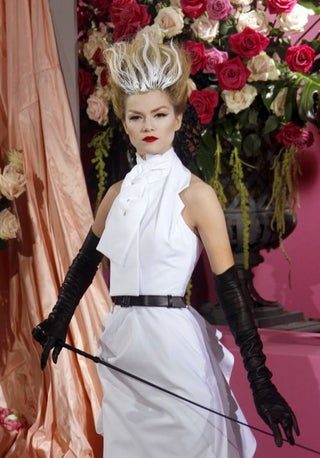 S
Oh, dear. Someone's stable boy is in trouble.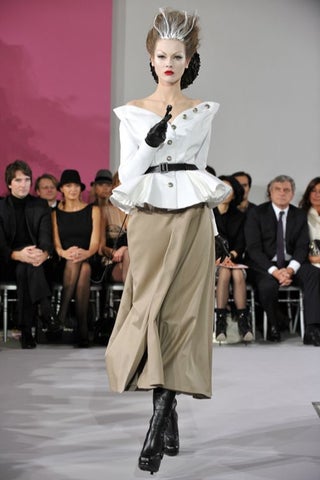 S
Rumor has it Lady Stiffupperlip steers her own phaeton. How very novel.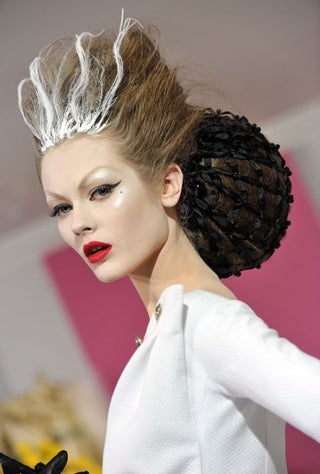 S
The red lip and the winged eye are so very classic; the Bride-Of-Frankenstein streaks are exciting: Is gray hair going to be IN?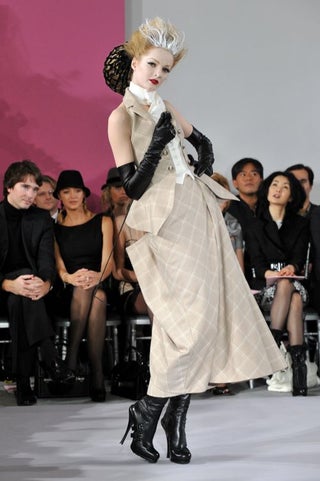 S
Perfectly proper while pretty, preposterous.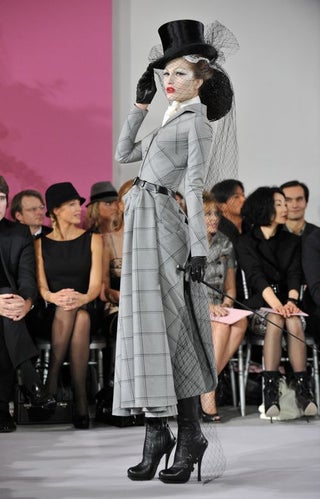 S
Madame D'Incorrigible is going on a fox hunt, all right. Just not the kind you're thinking of.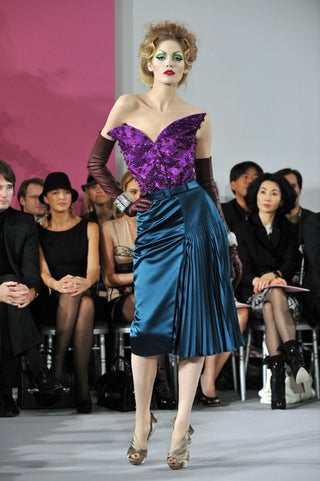 S
While the jewel tones of the dress are divine, there's something off about the eyeshadow hue, lending the entire effect an air of unpredictability that veers into Sunset Boulevard madness.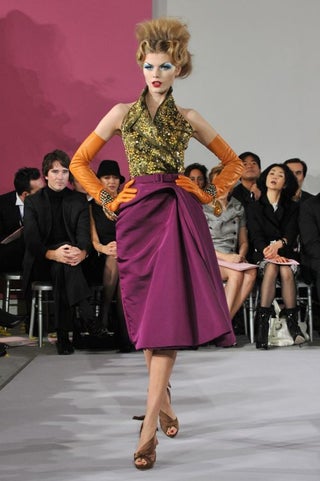 S
Um, Mr. DeMille? Someone is ready for her close-up. And it seems best not to keep her waiting.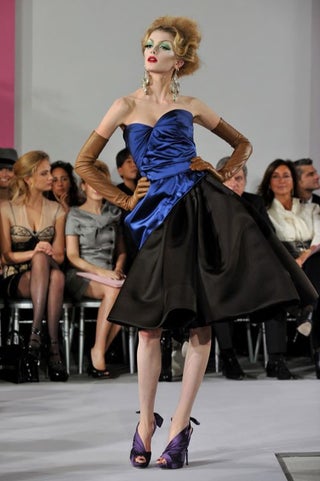 S
Dare we say CUTE SHOES? (Ixnay on the oves-glay, however.)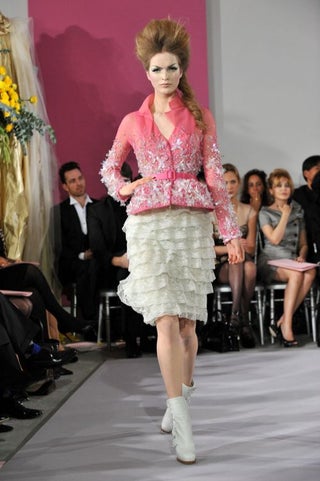 S
Looks like Henrietta's back from being schooled abroad in Paris, and she's got a secret.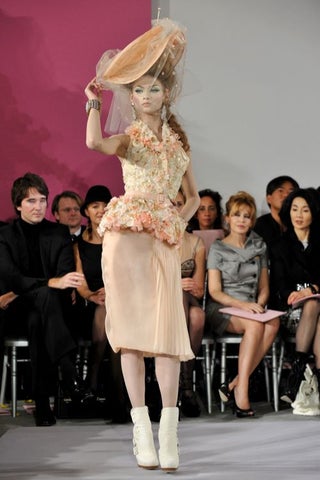 S
Perfect for a garden party. At Versailles.
S
While Galliano is known for going over the top and being theatrical, he also creates garments with intricate, exquisite detail. Has lace ever looked so rich?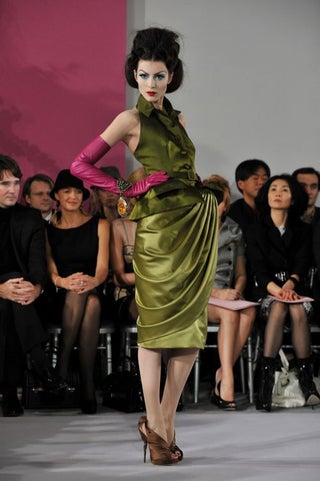 S
The Countess absolutely cannot believe she is not on the guest list. Heads will roll!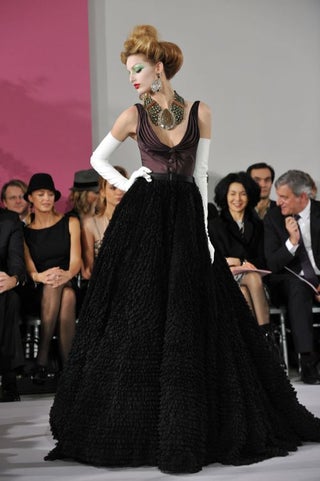 S
A deconstructed tuxedo grounded by a skirt of meticulous ruffles: Not for wallflowers.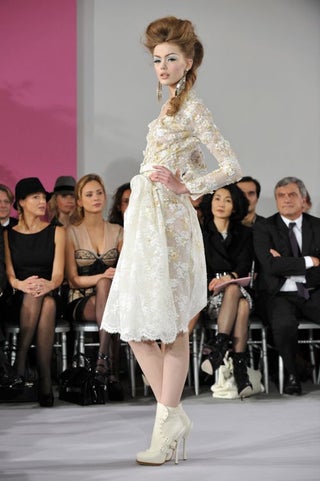 S
More restraint, delicacy. For Galliano, anyway.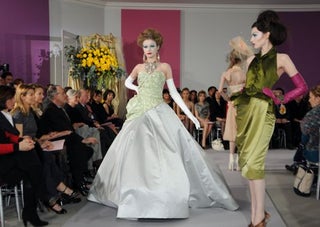 S
The full skirts with sweeping hems are both retro and now; for some reason the old shape seems new again. And beautiful as ever.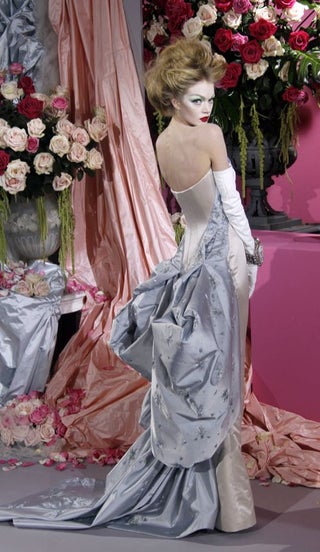 S
It's basically a bustle! But instead of costume-y, it's merely stunning.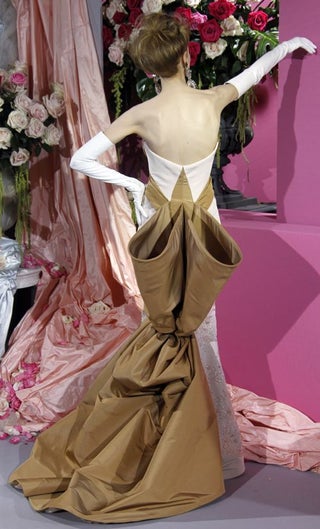 S
A girl needs a place to hide her champagne.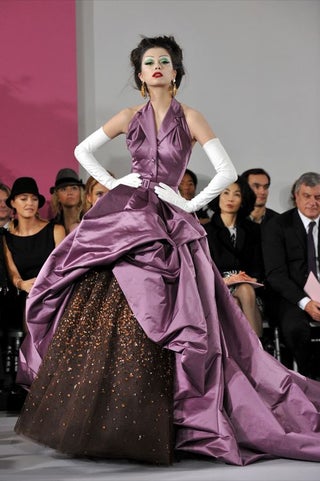 S
You've got to love the fact that a dress with this much volume, tulle, and satin also has a collar.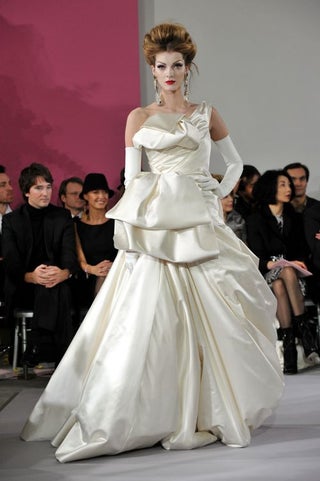 S
A bunch of brides just sighed, did you hear it?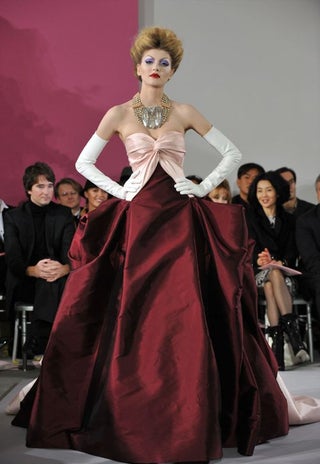 S
This gown will most certainly end up on the red carpet. The question is: On whom?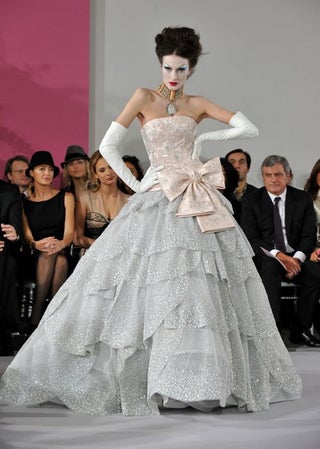 S
Someone is having either the best — or worst — prom night ever.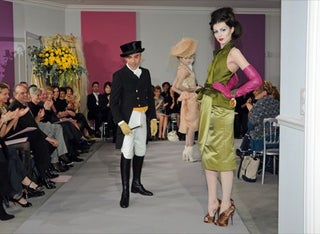 S
Monsieur Galliano prepares to ride off into the sunset.


Earlier: Galliano For Dior: For The Flirty, Foxy, Femme Fatale Film Star In You
Alexander McQueen: For The Futuristic Interplanetary Mutant Alien Queen In You
Balmain: For The Mad Max Rock & Roll Warrior Princess In You
Getty." />