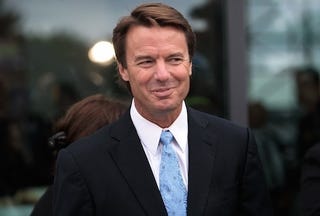 "I am Quinn's father," Mr. Edwards said bluntly in a statement released to the news media yesterday. But considering what other politicians have been up to, this "scandal" is a snoozefest.
Let's take this one to the videotape. Unlike Bill Clinton, Edwards made the cardinal mistake of showing fear. Check out Edwards when a reporter tactfully brings up "the articles...the National Enquirer:"
That was extra, extra blinky.
Later, he confessed on ABC News to the affair, but tried to deny paternity of the child:
(John, you know you wanted to say "See, what had happened was...")
Sadly, there would be no satisfying Maury Povich victory dance for Edwards.
What prompted Edwards' sudden admission of paternity? Was it the mudslinging release of the book Game Change? (Mark Halperin is hoping a movie will result from the book, and bitchily suggested Rosie O'Donnell should play Elizabeth Edwards.)
Obviously, what remains of Edwards' camp is still trying to spin that the public admission is really about settling the matters of child support (publicly?) and how this is a process, but come on - at this point, Edward's reputation is so tarnished, an item could come out that he had a threesome with a donkey and a Martian and people would shake their heads and say "Damn, we always knew John Edwards was a freak."
Still, as political scandals go, this was fairly tame. The only reason this is shocking was John Edwards' simple, nice guy image being shot to hell. The NY Daily News tried to compare Edwards to Tiger Woods, but it wasn't that serious. You don't go to sex rehab for a mistress and a baby. If we were in Europe, that would have just come with the territory. Still, Edwards seized the moment, made his admission, and broke for Haiti. (This trip just screams "I'm still a good person dammit!") The editor of the National Enquirer wants a Pulitzer for the reporting on that story, natch. But even the National Enquirer's standards are too low: 2004 brought Jim McGreevy coming out of the closet, Larry Craig spent 2007 trolling for sex in bathrooms with a wide-legged stance, and Mark Sanford went MIA last year for a love tryst in Argentina. The John Edwards Story wouldn't even make it to Lifetime.