There was something in the water in California last night, forcing otherwise well-dressed people to deck themselves in shockingly horrible getups. Maybe all of Hollywood lost a bet. All I know is, my jaw is permanently anchored to the floor.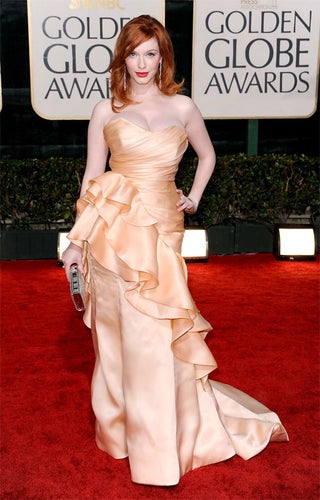 S
It actually looks like Christina Hendricks went to Christian Siriano (yes) with a Peaches 'n Cream Barbie circa 1985, asked him to copy it directly, and he was like, fierce.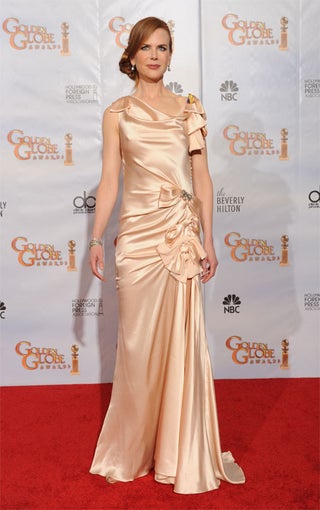 S
And Nicole Kidman went to Nina Ricci and was like, "yeah, like she said, except with a dash of David's Bridal and just a touch of five-year-old-playing-dress-up at the Salvation Army, except, please also get all your materials at a crafts superstore."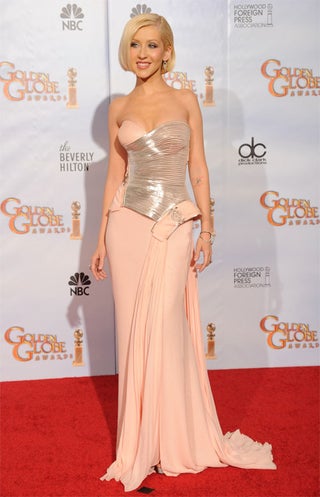 S
And Christina Aguilera thought, hmm, maybe if we went a little more fembot? And obviously, Versace had already made it, so that worked out.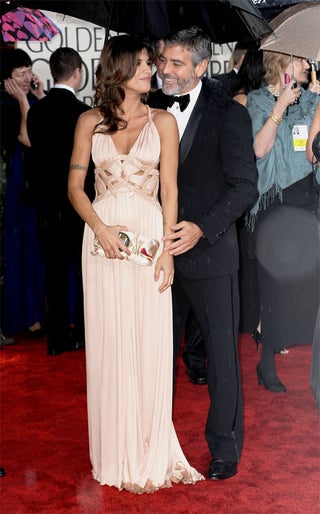 S
And this, in turn, inspired Elisabetta Canalis, who also wished to incorporate her interest in basket-weaving.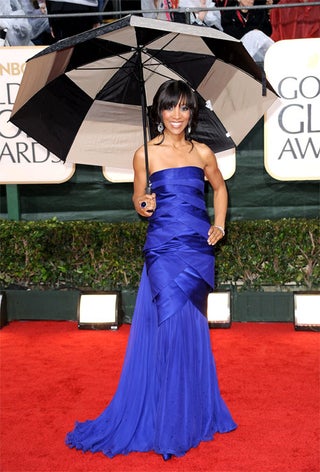 S
Shaun Robinson is also a fan of the weaving arts.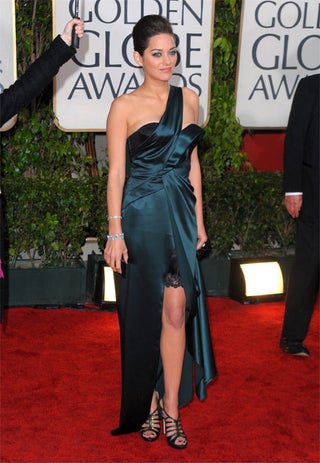 S
One of the most horrifying things about this red carpet was the fact that even usually impeccable dressers seemed to have gone temporarily mad. Yes, I may apply a higher standard to Marion Cotillard, but really? I wouldn't have thought that she + Dior could have looked so...cheesy.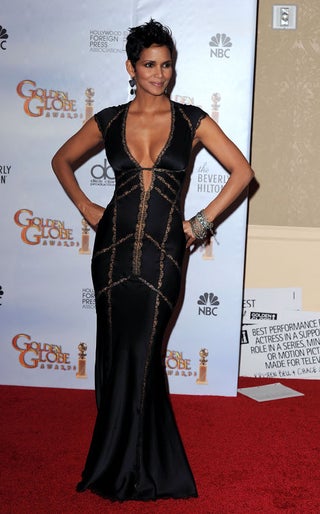 S
And when Halle's courting tack (is that a word? Not horse accessories) you know you've got a problem.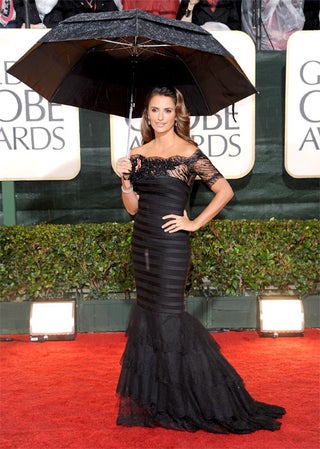 S
Et tu, Penelope? This busy Giorgio Armani Prive is neither interesting nor lovely.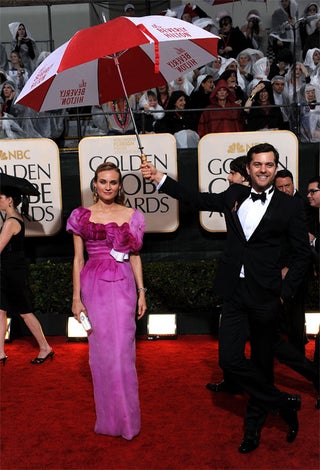 S
And I get wanting to show Lacroix love in these troubled times, but Diane Kruger's tulle situation looks organic - in the bad way.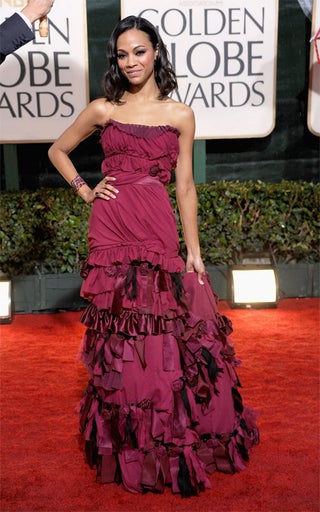 S
Speaking of sloppy fuschia! The generally faultless Zoe Saldana is gone with the raggle-taggle gypsies, oh. (Or Louis Vuitton.)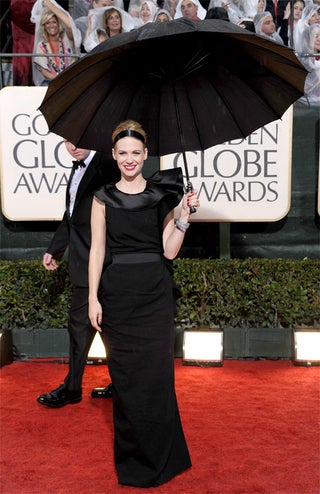 S
January Jones' Lanvin looks weirdly messy and ill-fitting, yes?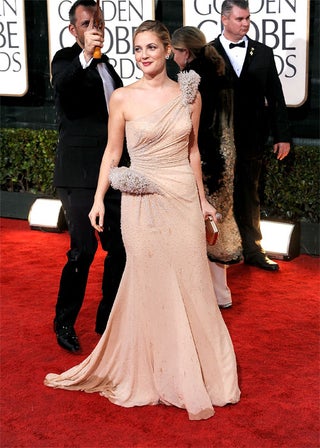 S
Drew Barrymore at Atelier Versace: yeah, that's beautiful, but what if we added some tumor-like crystal growths at random intervals?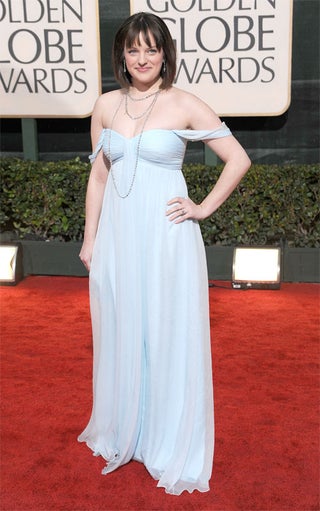 S
For some reason, Elisabeth Moss's frumpy Grecian and questionable hairdo choice distressed me more than any other red carpet disappointment.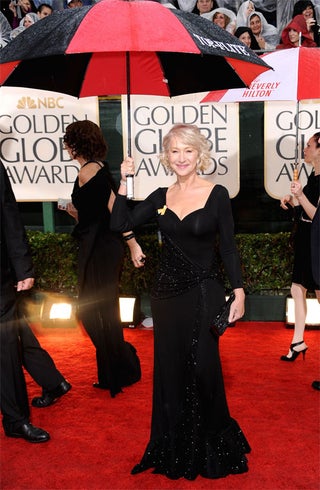 S
Yes, even more than Helen Mirren's Reagan-era special.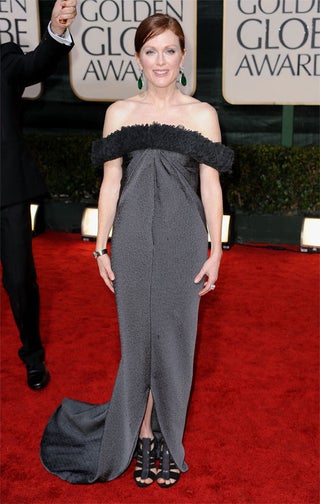 S
Or Julianne Moore's Mrs. Roper-pulls-a-Scarlett-O'Hara Balenciaga!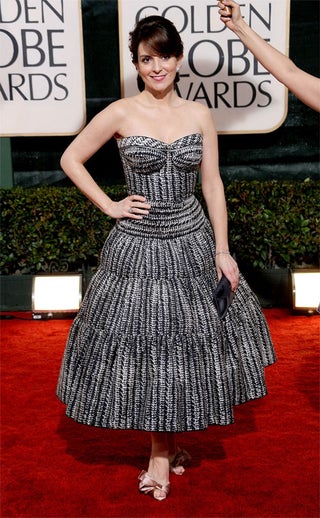 S
Man, I hate ragging on Tina Fey. And I think I can even see what she was going for with this Zac Posen - but, oh, the shoes, the shoes!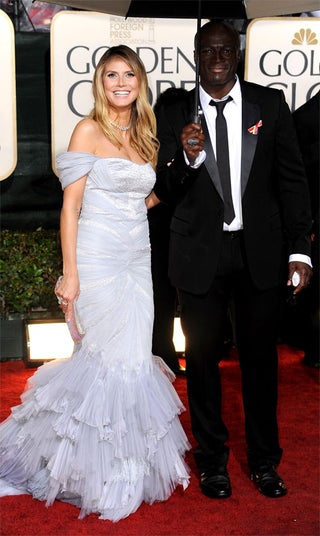 S
No qualms, however, about auf'ing Heidi Klum's 1989 wedding dress. (Roberto Cavalli)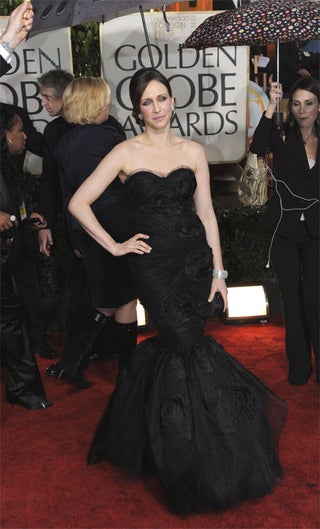 S
Speaking of bad fishtails: Vera Farmiga's is like a store wrapping station out of control.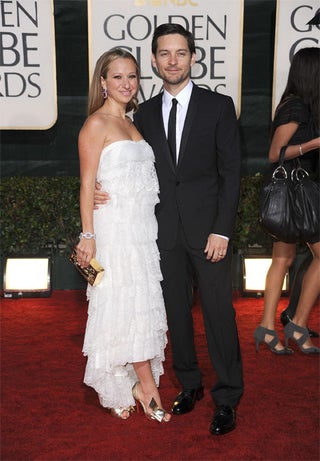 S
And speaking of retro weddings! Jennifer Meyer is suddenly everyone's mom, circa 1980.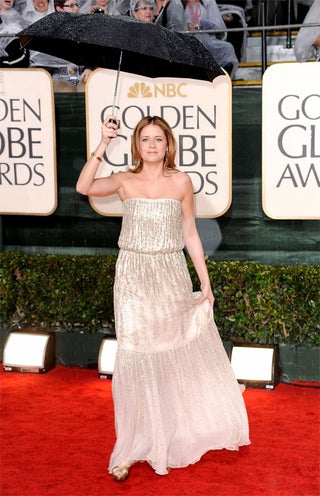 S
And, ooh! Ooh! Speaking of early-80s sundress styling: Jenna Fischer!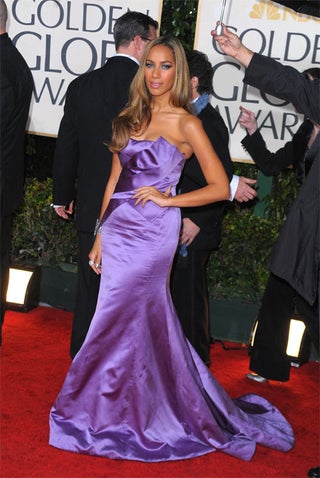 S
The ever-popular "Mattel Chic" look, as modeled by Leona Lewis.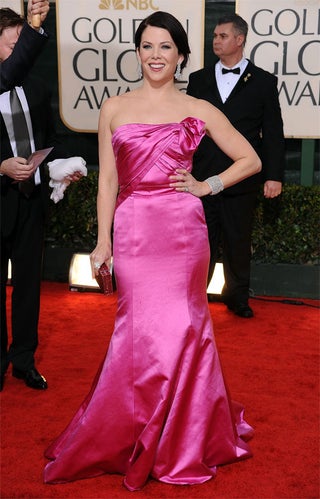 S
Lauren Graham, meanwhile, does Madonna-as-Marilyn-as Barbie.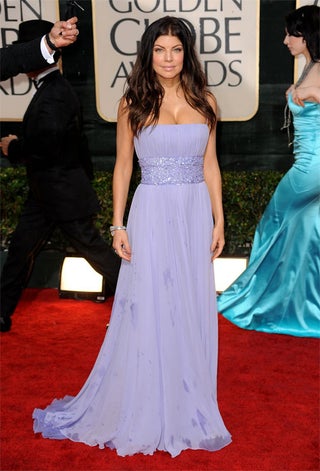 S
Fergie appears to have bought this dress at Cache, and that's all I have to say about that, except that yes I do know it's actually Elie Saab.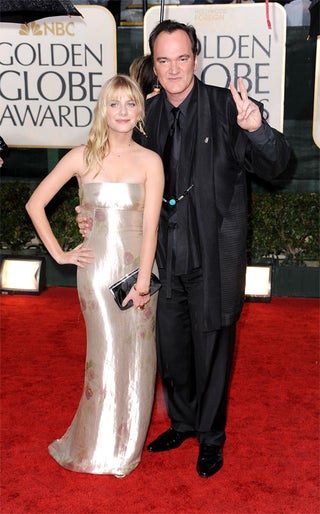 S
Lest you think the men redeemed things, think again: Quentin Tarantino looks like an aging mobster on a bad trip.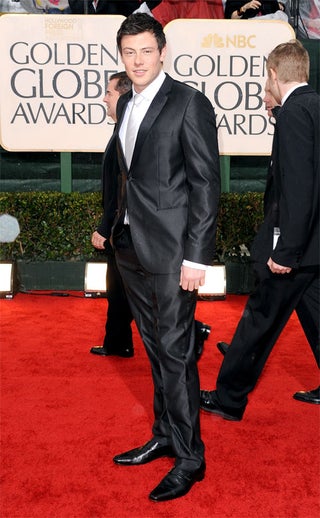 S
Youth in revolt: dudes like Cory Monteith seem to have mistaken "shiny tux" for "sophistication."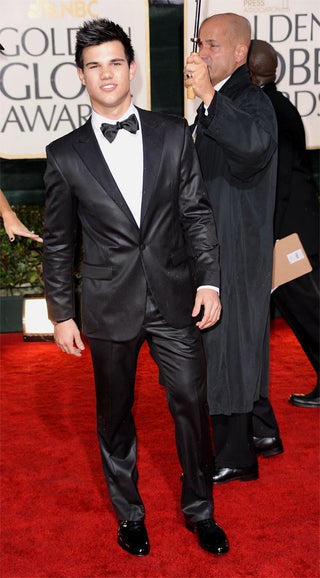 S
Ditto Taylor Lautner.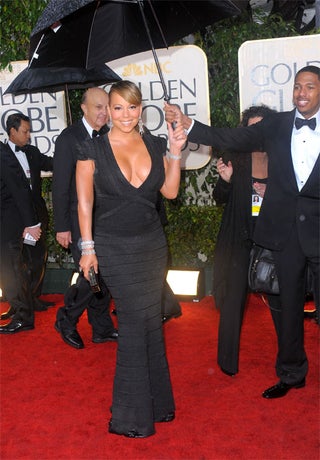 S
Would just two inches more have killed Mimi? Or her Herve Leger by Max Azria?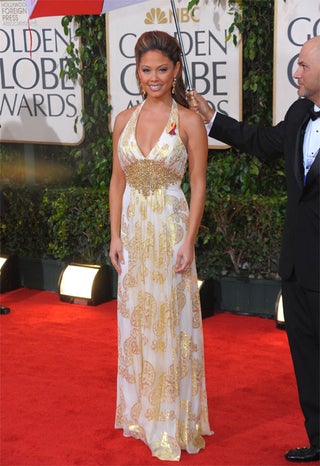 S
I saw Vanessa Minillo's gaudy frock early in the evening, and thought it was pretty Vegas. But after seeing this parade of horrors, it now seems like the height of tasteful elegance.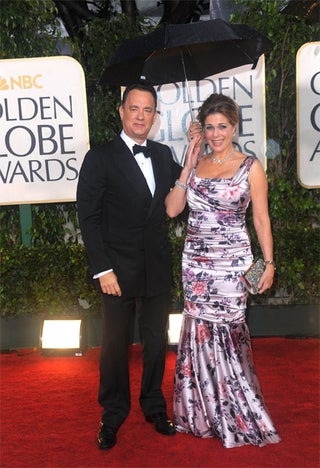 S
Why, why, why does someone always feel the need to carry the Laura Ashley upholstery standard? And why did poor Rita Wilson draw that card?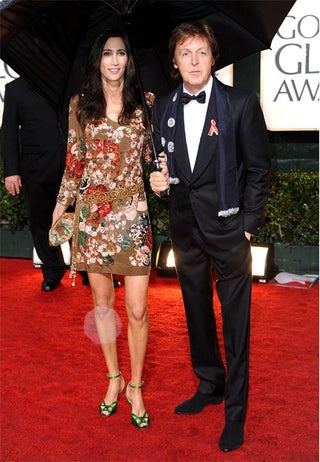 S
Speaking of unfortunate florals...and belts...and shoes: Nancy Shevell sports what a diplomatic friend of mine would call "a strong choice."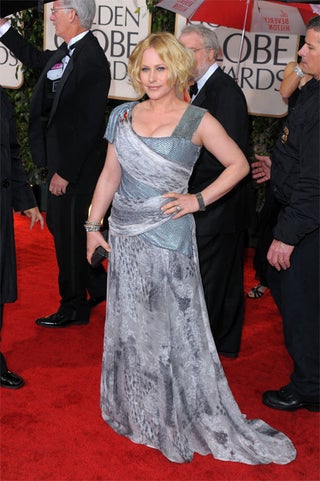 S
Patricia Arquette marches to the beat of her own drum. The drum is actually a can covered in waxed paper and secured by a rubber band, made by her 5-year-old.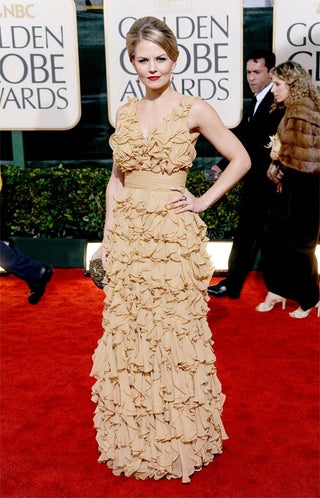 S
Jennifer Morrison's dress, among other things, may have been crafted from old pantyhose.



Getty" />