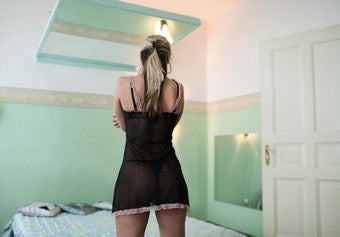 An international study on why men visit prostitutes revealed some disturbing attitudes about sex trafficking, rape, and the difference between prostitutes and "real women."
The researchers interviewed 700 men worldwide, including 103 in London. Julie Bindel of The Guardian spoke to 12, and their responses ranged from run-of-the-mill to downright disturbing. Some discussions of prostitution paint it as a last resort for men who have difficulty attracting or connecting with women, but Bindel writes that the johns she spoke to "were presentable, polite, with average-to-good social skills. Many were husbands and boyfriends; just over half were either married or in a relationship with a woman." Some of the men felt guilty or "disappointed" by their encounters with prostitutes — one called them "unfulfilling, empty, terrible." Yet they seemed to have little concern for how the prostitutes felt.
Said one man, "I don't want them to get any pleasure. I am paying for it and it is her job to give me pleasure. If she enjoys it I would feel cheated." He seemed to justify this through a belief that prostitutes aren't like other women: "The fact that they're prepared to do that job where others won't [...] means there's some capability inside them that permits them to do it and not be disgusted." Similarly, another john said, "Lots of men go to prostitutes so they can do things to them that real women would not put up with."
Perhaps it's this artificial distinction between sex workers and "real women" that allowed the men in the study to have sex with prostitutes they believed had been trafficked against their will. One man said of one of his encounters, "I could tell she was new to the country. To be new in a country and be a prostitute – it can't be a choice . . . She looked troubled." Another offered this anecdote about an African prostitute: