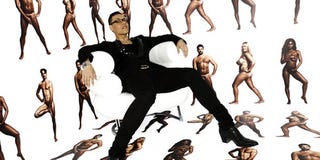 In the UK, there's a new version of a popular makeover show: How to Look Good Naked...With a Difference. The "difference?" All the women on this series are disabled in some way:
You're probably familiar with the How to Look Good Naked franchise (in the U.S. it's hosted by former QueerEye fashion maven Carson Kressley) in which women, through a course of pampering, self-esteem exercises, talks with the host and makeovers, learn to feel good in their own skins. It's a gentler twist on a genre that spawned such horrors as The Swan and Extreme Makeover, and its British iteration, hosted by Gok Wan, is a hit on the other side of the pond.
In the latest series, he's making over three women - one in a wheelchair, one blind since her 20s, and "a mum-of-three with a prosthetic arm" - that's "the difference," you see. If this sort of thing raises your hackles, join the club: I think we're all thinking of the Britain's Missing Top Model, in which women with a wide range of disabilities were thrown together to compete for a beauty crown - a study in objectification that did little to "normalize" the experience of different levels of ability.