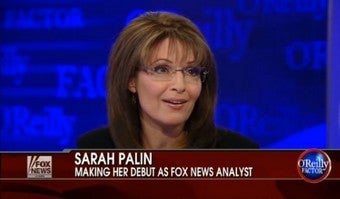 Sarah Palin's debut as a Fox commentator last night showcased her one truly marketable skill: talking about herself and dissing haters. So how do we even discuss Palin without adding fuel to the fire?
In Palin, says Time's Michael Scherer, Fox "hired a mascot [...], a living breathing symbol of all that the network hopes to be: a place for the forgotten, besieged, suburban and rural American middle, long victimized, often dismissed, beset on all sides by elites and liberals, haters and foes." He adds, "She exists to enrage and rile those paid to pay attention to this stuff, a group who a great bulk of the American people long ago began to dislike for its phony self-importance and its monopoly on their attentions" — that is, the Mainstream Media with its cloven hooves and its tail made of arugula. Palin did discuss Iran and Harry Reid on The O'Reilly Factor last night, but the main focus — as always since the election — was on the supposedly perplexing question, why do people hate you?
Some liberals are still unaccountably interested in this issue, but for conservatives like O'Reilly, it's perfect red meat, allowing them to accuse the "left-wing media" of being hateful and petty but also uncool. After playing clips of various media types dissing Palin, O'Reilly asked her, "You're a politician, you're a mom, you're an American. What's the threat?" Ouch! The left hates moms! And Americans! And this pretty lady sitting right here, just trying to offer, as she says, "common sense conservative solutions." The real kicker, though, isn't that liberals are mean and unpatriotic — it's that they're losers. O'Reilly also played clips from 60 Minutes, crowing "they spent eight minutes on you!" The joke here is that left-wingers actually care about bashing Palin, while Palin is busy doing important things like defending real America.