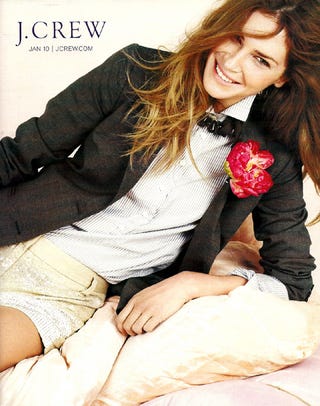 After aggressively pushing product all fall and right up to the holiday frenzy in December, J. Crew has the audacity to show up in the mailbox with a happy, light, carefree January catalog. Worse: There's barely anything good.
Yuck. Some people love stuff like this, some people look awesome in stuff like this, but this ensemble — excrement brown, sack-like anorak; depressed art teacher chambray shirt; "faded black" cotton skirt — is basically the exact opposite of my fashion aspirations. I long to look more tailored, more refined, more chic. Not dumpier, or more like an extra from an organic farming documentary. Not that there's any thing wrong with that. Just not my style. Also, can organic farmers afford to pay $98 for a chambray shirt?
I knew that with all the headbands and plaid making a strong comeback, it was only a matter of time before full-on prepster was in effect. But Topsiders. Are. My. Breaking. Point. And this is coming from a girl who wore black penny loafers with dimes in them four semesters in a row. (Sixth and seventh grade.)
Okay, whatever, if those zipper jeans came in my size I would buy them, even though I would not look like a "toothpick."
So the idea is to "swap out" our usual skirt for sequin shorts, but what they don't realize is that the "usual skirt" covers the "big thighs" that won't work in shorts with a four-inch inseam. But thanks for the suggestion!
Okay, so the ankle is the new hot shit, right? There's so much going on around the ankle. But it's so confusing: Are pants supposed to be high? Are boots supposed to be low? Are socks over? Do you buy trousers knowing you're going to roll 'em up? Does it look good? Is it sexy?

Because these shoes are as "sexy" as the ones in that vintage ad from 1969. Which is to say: Not sexy. Hideous, in fact.