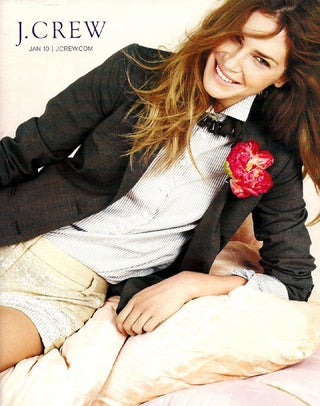 S
After aggressively pushing product all fall and right up to the holiday frenzy in December, J. Crew has the audacity to show up in the mailbox with a happy, light, carefree January catalog. Worse: There's barely anything good.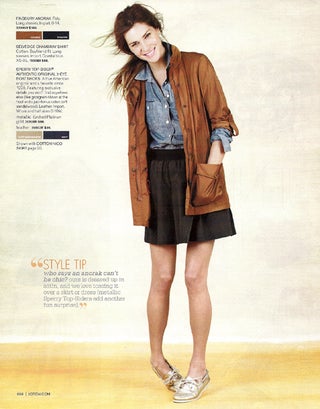 S
Yuck. Some people love stuff like this, some people look awesome in stuff like this, but this ensemble — excrement brown, sack-like anorak; depressed art teacher chambray shirt; "faded black" cotton skirt — is basically the exact opposite of my fashion aspirations. I long to look more tailored, more refined, more chic. Not dumpier, or more like an extra from an organic farming documentary. Not that there's any thing wrong with that. Just not my style. Also, can organic farmers afford to pay $98 for a chambray shirt?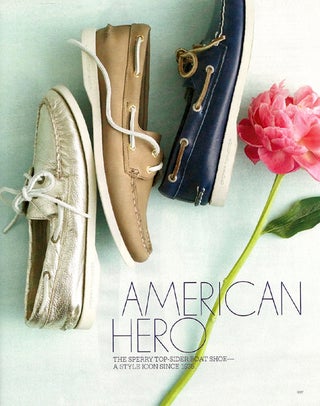 S
I knew that with all the headbands and plaid making a strong comeback, it was only a matter of time before full-on prepster was in effect. But Topsiders. Are. My. Breaking. Point. And this is coming from a girl who wore black penny loafers with dimes in them four semesters in a row. (Sixth and seventh grade.)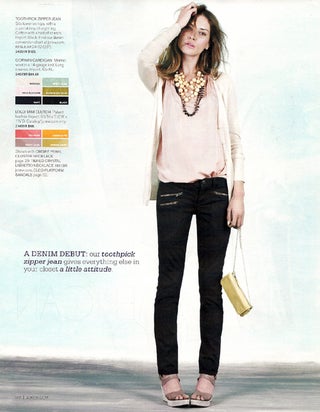 S
Okay, whatever, if those zipper jeans came in my size I would buy them, even though I would not look like a "toothpick."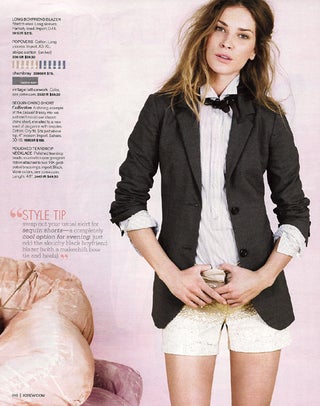 S
So the idea is to "swap out" our usual skirt for sequin shorts, but what they don't realize is that the "usual skirt" covers the "big thighs" that won't work in shorts with a four-inch inseam. But thanks for the suggestion!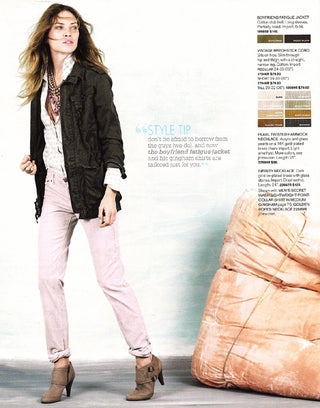 S
Okay, so the ankle is the new hot shit, right? There's so much going on around the ankle. But it's so confusing: Are pants supposed to be high? Are boots supposed to be low? Are socks over? Do you buy trousers knowing you're going to roll 'em up? Does it look good? Is it sexy?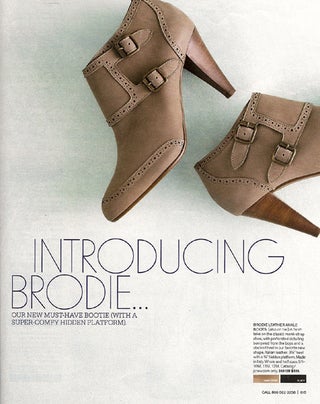 S

Because these shoes are as "sexy" as the ones in that vintage ad from 1969. Which is to say: Not sexy. Hideous, in fact.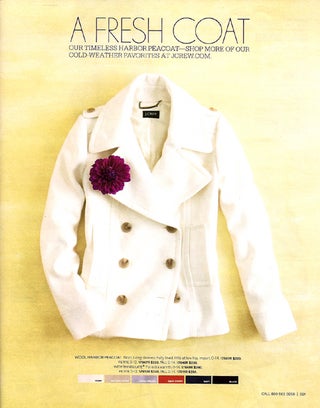 S
Gorge.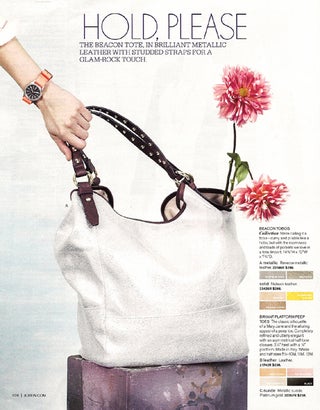 S
Want. Love. Bravo.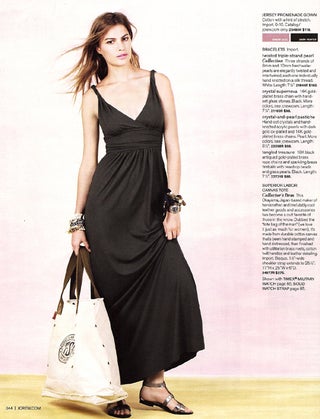 S
"Let's pretend you're on vacation in the Seychelles. I know you're in a cubicle under fluorescent lighting, but let's pretend you're stepping off of Roberto Cavalli's psychadelic yacht or something right now. This would be perfect, no?"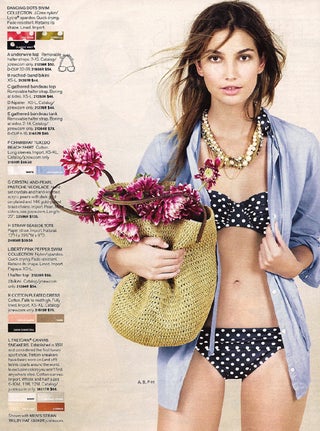 S
The good news is there's more fabric involved here than with the Vicky's Seeks suits. The bad news is: Still not in the mood for swimwear.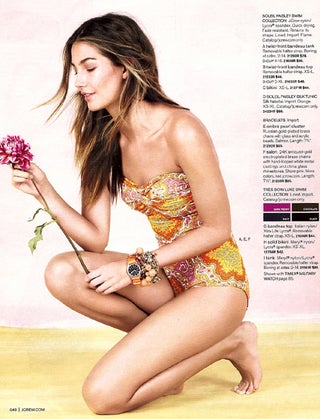 S
Pretty.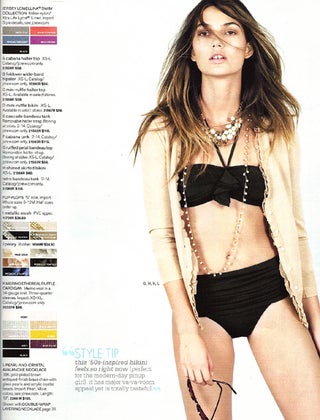 S
Let's just file this under "What to wear when you finally have that big Hollywood meeting in your bungalow at the Chateau Marmont and they're begging you to direct, star and produce and Johnny Depp is interested but you want to seem nonchalant." I already have seven outfits in that file and this would make a good addition. How many do you have?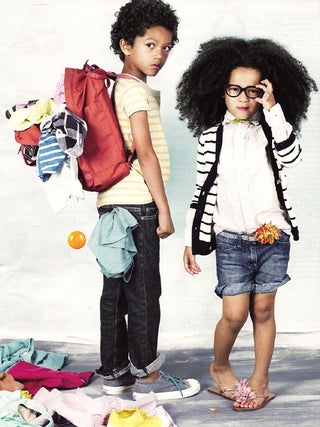 S
J. Crew should sell birth control, or stop trying to get my ovaries all worked up, or both.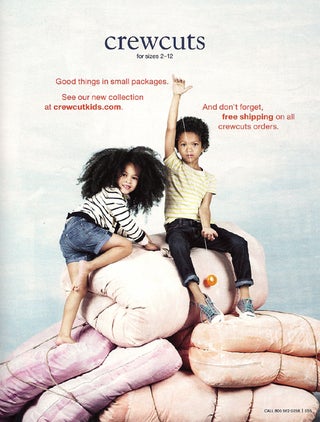 S
The hair. For the love of god, the hair!!!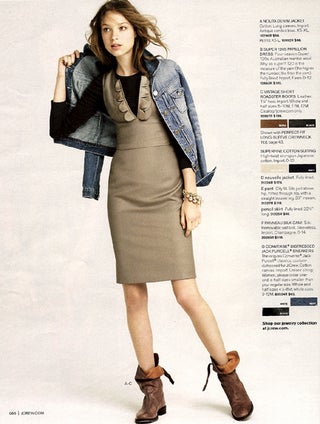 S
Okay, so, have you ever been in the situation where you were getting busy with a special someone, and everything was going well and being tingly, and it was like, YES YES YES, when all of a sudden that person made a wrong turn, bad move or pressed too hard and the record skipped and scratched and there was an immediate NO NO NO? That's what's up with the January J. Crew. The shimmery bag and the cute kids got me worked up, and then boom: Colossal fuggery. I hate this outfit from head to toe. And the neckline of that dress is like a medical illustration of "when vulvas go wrong."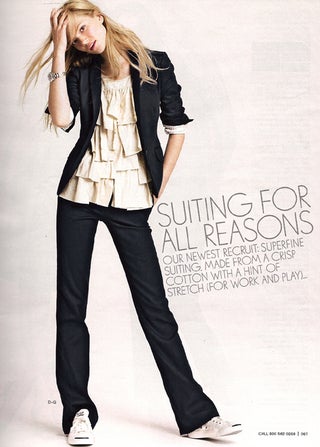 S
Phew. That's better!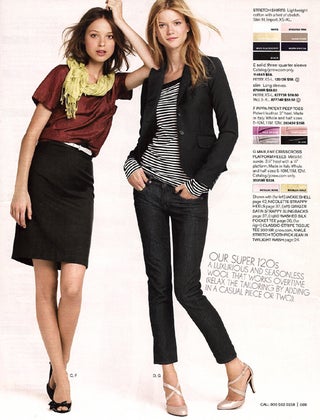 S
No issues whatsoever with what is happening on the right. The problem is the washed silk pocket tee ($68) on the left. Forever wrinkled! And God forbid you should perspire an iota. Or spill anything. Ruined! Ruined, I tell you. I had a silk tank which I wore for precisely TWENTY MINUTES before the pits turned a strange color and the front was stained FROM A DROP OF WATER that had condensed on the outside of a glass. Not worth it.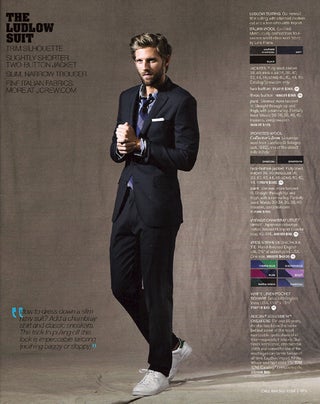 S
Oh. Hello. Pardon me. I didn't notice you there.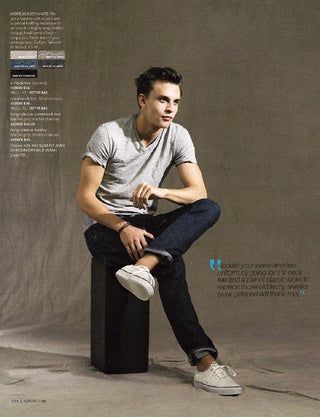 S
You brought a friend! How kind of you.
J. Crew [Official Site]
Earlier: Post-Holiday Bloat? Tough: It's Swimsuit Season At Victoria's Secret
Urban Outfitters: A New Year's Eve Party Of One
Free People: Let's Pretend It's The Summer Of '69
Anthropologie's Hazy Shade Of Winter
Dear Santa: Have You Seen The December J. Crew?
Barneys: Wooing With Witticisms & Wallet-Emptying Wares
Ashro: Stop Being Such A Slob And Get Yourself A Suit, Hat & Wig
Silver Belles & Butt Floss: Christmas At Frederick's Of Hollywood