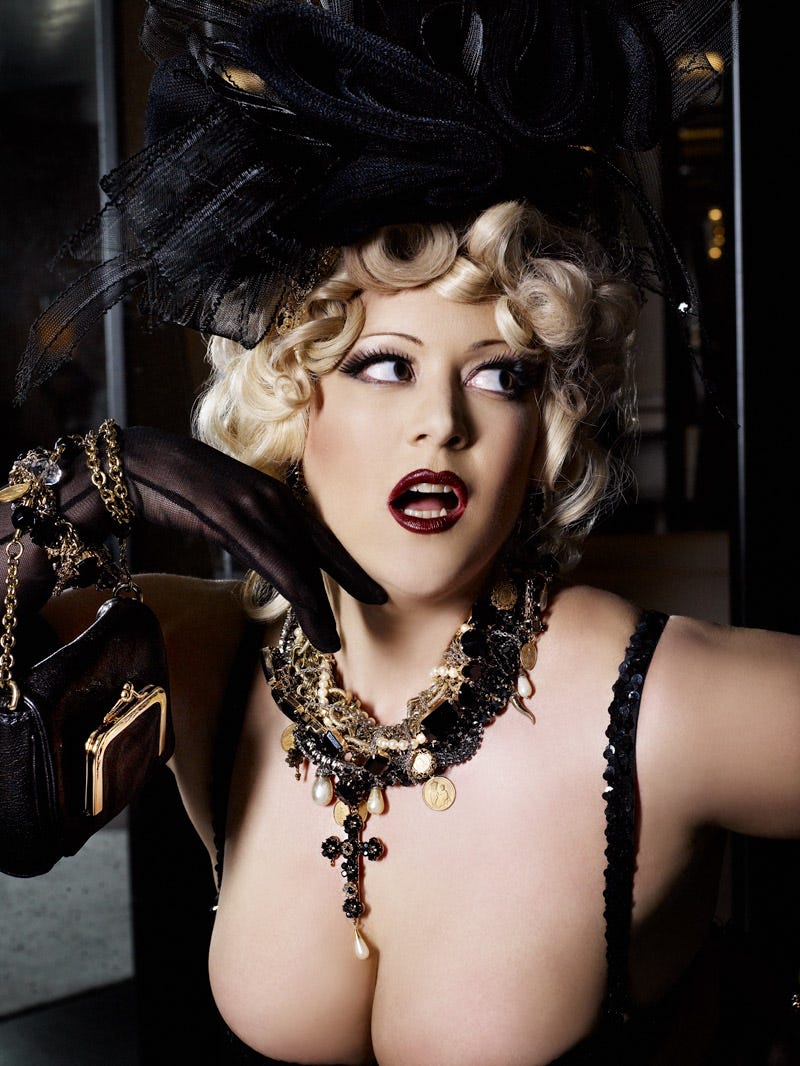 As soon as we heard that Karl "No one wants to see curvy women" Lagerfeld was involved in V's Spring 2010 issue — which features some plus-size models — we were anxious to see just what the Kaiser would cook up.
V has shared a four-page spread, shot by Lagerfeld, with Models.com. The model is burlesque performer Miss Dirty Martini, who is something of a legend on the New York club scene. (You can watch some of her work here; video moderately NSFW.)


Miss Dirty Martini's day job more than explains the use of pasties here, but this is as good a time as any to address the fact that a large number of plus-size shoots feature nudity. Of course, so do many fashion shoots with straight-size models: but because as a culture we associate larger women's bodies with different meanings than smaller women's bodies, photographing a plus-size model naked can have very different connotations. Eroticizing a plus-size model is a pretty easy, and in some ways predictable, choice. Do the images rely on the old trope of the voluptuous woman as sexually salacious? Is it just that the stylist couldn't (or couldn't be bothered) to pull clothes in the right sizes? Are we sick of seeing plus-size shoots with lots of sexy, kittenish posing? (On that last score, well, yes — a little.)
To be fair, there are also fashion shoots with plus models that don't flaunt the women's sexuality. V's first story from the spring issue, which we admittedly didn't love, was one such shoot. Glamour's several recent editorial spreads, including its latest with Crystal Renn, are some other examples, even though the picture that kick-started the magazine's decision was of model Lizzie Miller in nothing but a g-string. Vogue Paris, which has in the past — though not in the last year or so — done occasional fashion stories with plus-size models like Renn and Kate Dillon for no reason other than that they are beautiful and wear clothing superlatively well, has hit other notes than just sex with its photography.