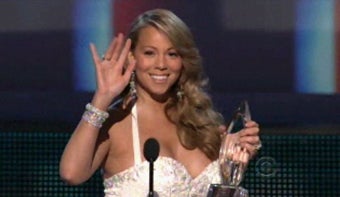 The People's Choice Awards is the first ceremony of awards season, but it's also the least important, mostly because the winners are not chosen by their peers or critics, but by the their fans. Anyway, let's get to it.
10:58 Wha!?? Johnny Depp showed up!? I bet he's had as much wine as the rest of us tonight.

10:54 It's weird that Favorite Movie Actor is the headlining award. (Please say that it's the headlining award and that this will be over soon).
10:41 This is how I threaten people at parties:



10:39 This is what Epcot Center told me what clothing in 2010 would look, about 22 years ago.

10:28 God, if I were 15 and into Cobra Starship, I'd be so pissed they were doing a duet with the Pussycat Dolls girl. I'd feel so betrayed and angry and fat. Don't judge me! This is emo time!
10:22 Josh Holloway's skin looks like hot dog casing next to Ginnifer Goodwin's. It reminds me of pictures of me and my mother.

10:14 You know, what? I approve of teen girls finding Taylor Lautner hot, because I can see why. But I'm totally lost on why they consider Michael Cera a heartthrob. Have you seen him lately? He looks like he has lesbian AIDS. And I'm a big Arrested Development fan.