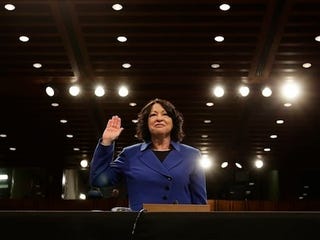 In Latina, we learned all about Sonia Sotomayor's personal life and style. A new profile in the New Yorker thoroughly probes her work life and relationships to paint another picture of the justice as intellectually savvy, confident, and compassionate.
Running twelve long pages, Lauren Collins's piece delves deeply into Sotomayor's past, relying heavily on the testimony of friends and congressional gossip to reveal how much was at stake with her historic nomination, and how long a climb it actually was. Collins's article deserves a deep reading on its own merit, but here are eight items that stood out to me as particularly telling.
Focus on Sotomayor's Clothing as a Signifier of Difference
Much has been made of Sotomayor's nail polish and hoop earrings. Writer Lauren Collins continues this trend within the first few paragraphs noting:
By the end of the hour allotted to the case, Justice Sotomayor-wearing a snaky silver cuff bracelet and with her fingernails painted sports-car red-had spoken five times.
This is normally positioned alongside other quirky characteristics of Sotomayor, like her card-sharking ways. No, seriously.
The financial-disclosure form that she filed with the Senate revealed that, in 2008, in a Florida casino, she had won $8,283 playing cards.
During the nomination process, Sotomayor's background was carefully scrutinized, and she was instructed to camouflage or obscure some of her normal habits. In some ways, her embrace of her own cosmetic preferences and hobbies over what is considered to be safe or acceptable signal she is not ashamed of who she is or where she has come from. Assimilation requires a very high price and her refusal to do so is an amazing stand for individual truth. There is nothing inferior about wearing colored nail polish, or wearing an off-the-rack suit to work, or rocking hoop earrings. Just as many of us are asked to remove our ethnic and regional markers in exchange for success (straightening hair, tightening diction, and avoiding items that call attention to the wearer) Sotomayor's subtle - but persistent- refusal to fall in line implies much more than a love of candy apple red polish.
She Is Not Afraid to Speak
In contrast to the conservative answer to Silent Bob, Sotomayor assumed the bench and peppered the presenting attorneys with questions. Friends quoted in the New Yorker mentioned she wanted to be ready "on day one" to make a contribution to the court. And has she ever - Collins notes Sotomayor "asked a hundred and forty-six questions in the course of thirteen arguments (average: 11.2 questions per argument)."
However, Sotomayor's questioning was not idle puffery - Sotomayor is revealed to be a skilled interrogator on the bench, who often uses her questions to force attorneys to clarify their positions.
The day before, in the Court's opening session, she had spoken thirty-three times, more than any other Justice. In contrast to some of her peers, who pondered historical parallels (Justice Antonin Scalia: "What about a new Adolf Hitler?") or posed absurdist hypotheticals (Justice Samuel Alito: "Suppose you have the Ethnic Cleansing Channel on cable TV?"), she took a nudgy, earthbound approach ("What do you mean by 'even-handed,' please?"). She did not traffic in punch lines or brainteasers. Her hypothetical was an actual. You could imagine Sotomayor, who had ditched the frilly jabot she had worn in her official portrait (a gift from Justice Ruth Bader Ginsburg), becoming curious about pit-bull documentaries and calling up some David Roma clips on YouTube to check them out for herself.
However, this tendency to question has caused some tension on the court. She inspired a quick retort from Ruth Bader Ginsberg after interjecting when an attorney was attempting to answer Ginsberg's question. In addition, while the other justices are remaining mostly quiet about their true feelings, generally it appears that enthusastic questioners are not always appreciated: