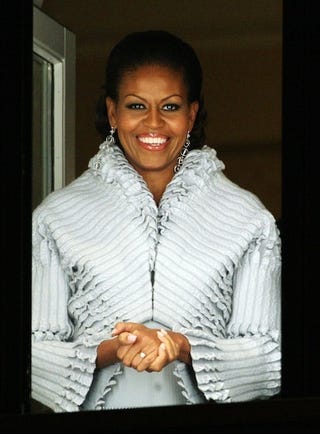 What is the role of the modern first lady? In Sunday's Washington Post, Robin Givhan takes Michelle Obama to task for failing to advocate for a specific cause during her first year in the White House.
Givhan explains that Michelle Obama keeps busy with a variety of events - but also notes that the events fail to give a real impression of the personal views or political motivations of the first lady:
Her events generated pictures for Facebook pages, blogs and brag walls, but not narratives. They made the attendees feel appreciated, special and listened to. But Obama did not attempt to convert audiences of nonbelievers on issues ranging from health-care reform to gender equity. The provocative campaigner, professional advocate, onetime community health-care liaison and "rock" of the Obama family has presided over events that often seemed more dutiful than inspired.
The article criticizes Obama for being too stiff at formal events, noting that she shares a speechwriter (and, by extension, a voice) with the President, which keeps her in lockstep with the goals of the Administration. However, the article chokes on its own theory, explaining early on that the more reserved and official Michelle Obama remains, the higher her approval ratings soar. And, considering Shortsgate, perhaps it is a good strategy for her to keep a low profile.